Eurozone PMI manufacturing was finalized at 47.5 in March, revised down from 47.6, down from February's 49.3. It's also the lowest level since April 2013, and the second straight months of sub-50 reading. Markit noted there was the biggest monthly decline in new orders since late 2012. Also, confidence hits lowest level in over six years.
Among the countries, Germany PMI manufacturing was revised further lower to 44.1, an 80-month low. Italy PMI manufacturing was at 47.4, 70-month-low. France PMI manufacturing was revised down to 49.7, below 50, but it's just a 3-month low. Australian PMI manufacturing was at 48-month low at 50.0. Netherlands PMI manufacturing was at 33-month low at 52.5. However, Greece PMI manufacturing was at 54.7, 12-month high.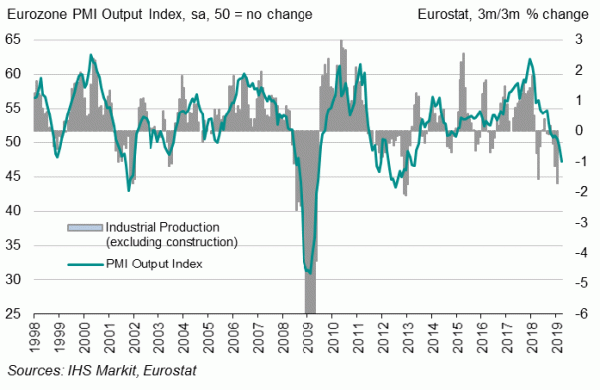 Commenting on the final Manufacturing PMI data, Chris Williamson, Chief Business Economist at IHS Markit said:
"The March PMI data indicate that the eurozone's manufacturing sector is in its steepest downturn since the height of the region's debt crisis in 2012. The survey is indicative of output falling at a quarterly rate of approximately 1% in March, suggesting that the January rebound from one-off factors late last year seen in the latest official data is likely to prove short lived.
"Looking at the forward-looking indicators, downside risks have intensified, and the trend could clearly deteriorate further in the second quarter. New orders are falling at a rate not seen since 2012, and disappointing sales mean warehouses are filling with unsold stock. The orders-to-inventory ratio – a key indicator of the future production trend – is at its lowest for almost seven years. Expectations of output for the coming year are also the gloomiest since 2012.
"Concerns over trade wars, tariffs, rising political uncertainty, Brexit and – perhaps most importantly – deteriorating forecasts for the economic environment both at home and in export markets, were widely reported to have dampened business activity and confidence.
"Cost cutting has become more evident as firms grow more risk averse, notably with respect to hiring. Job losses were reported in both Germany and Italy, where the downturn in demand is doing the most damage. However, France's manufacturing sector is also now back in decline, Austria's goods-producing sector has stalled, Spain is close to stagnation and growth has lost considerable momentum in the Netherlands, highlighting the increasingly broad-based nature of the current deterioration."