Germany PMI manufacturing rose to 44.5 in April, up from 44.1 but missed expectation of 45.2. It's staying deep in contraction below 50. PMI services rose to 55.6, up from 55.4, beat expectation of 55.0. PMI composite rose to 52.1, up from 51.4.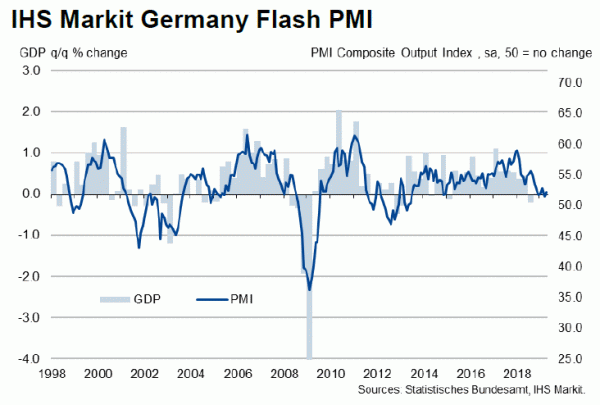 Commenting on the flash PMI data, Phil Smith, Principal Economist at IHS Markit said:
"The overall picture for Germany's private sector has changed very little according to April's flash data, with strong growth across the services economy continuing to counteract the export-led weakness in manufacturing. Though the PMI has ticked up from March's 69-month low, it's merely signalling the same modest rate of underlying growth as seen on average over the opening quarter of the year.
"Slight upticks in the manufacturing indices for output, new orders and employment saw the headline Manufacturing PMI post its first rise in nine months, albeit with the latest reading nonetheless the second-lowest since mid-2012. Amid reports of a declining car industry, strong competition across Europe and generally subdued global demand, the data showed another steep drop in German goods exports and the lowest confidence among manufacturers for six-and-a-half years.
"The survey continues to highlight strong job creation across the service sector, which is in turn supporting wage growth and means we should see consumer demand continue to rise during the second quarter."