UK GDP grew 0.3% mom in May, matched expectations. Index of services rose 0.0% mom. Index of production rose 1.4% mom while manufacturing rose 1.4% mom. Construction rose 0.6% mom. Agriculture rose 0.0% mom.
Rolling three month growth from March to May slowed to 0.3%, down from 0.4% from February to April. It's also notably below 0.5% qoq in Q1. Services grew 0.3% in the three-month period, production grew 0.3%, while construction was flat.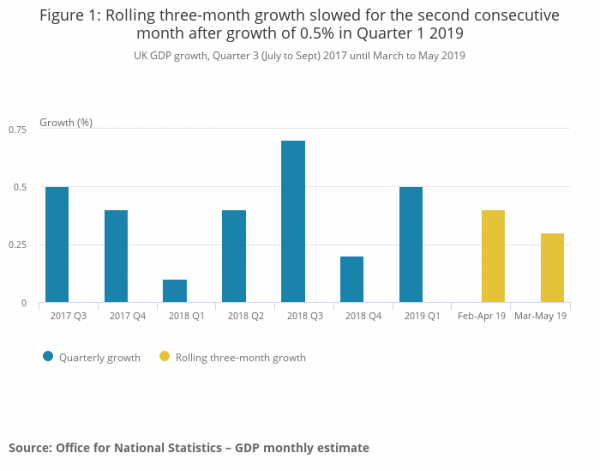 Commenting on today's GDP figures, Head of GDP Rob Kent-Smith said: "GDP grew moderately in the latest three months, with IT, communications and retail showing strength. Despite this, there has been a longer-term slowdown in the often-dominant services sector since summer 2018. The economy returned to growth in the month of May, following the fall seen in April. This was mainly due to the partial recovery in car production."
Also released, manufacturing production came in at 1.4% mom, 0.0% yoy versus expectation of 2.2% mom, 1.1% yoy. Industrial production came in at 1.4% mom, 0.9% yoy, versus expectation of 1.5% mom, 0.9% yoy.