Markit Global Business Outlook Survey dropped from 24 in February to 18 in in July, hitting the lowest since data were first collected in 2009. The survey was carried out three times per year, and if shows net balance of global firms predicting rising output in the coming year.
US has seen the biggest slide in business optimism apart from Brazil, down to 16. Confidence ticked higher in Eurozone to 27, but remained closed to six-year lows. UK also improved slightly 32, joint second-weakest since 2009. Japan's reading dropped to three-year low at 11.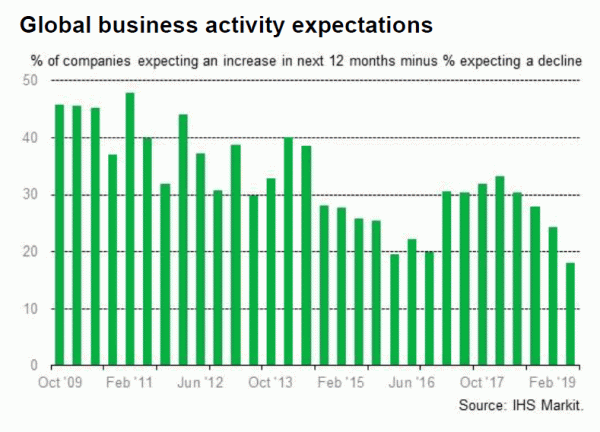 Commenting on the survey, Chris Williamson, Chief Business Economist at IHS Markit, said:
"The global business mood has darkened to the gloomiest since the height of the financial crisis in 2009. Escalating trade tensions have fuelled the downturn in optimism, exacerbating wider worries about slowing economic growth in key markets.
"Not only does the survey indicate a further weakening of global economic growth in the second half of 2019, but companies are expecting profits to be especially hard hit, which is leading to a pull-back in both hiring and business investment around the world. This in turn adds to the risk of the downturn becoming more entrenched in coming months, absent renewed policy stimulus measures.
"The big change since earlier in the year has been a marked deterioration of optimism among US companies, alongside a slide in business optimism in China, indicating how trade war tensions are hurting both economies. In contrast, sentiment picked up slightly in the eurozone and UK, albeit remaining worryingly subdued."