Australian employment grew 34.7k in August, well above expectation of 20k. Full-time employment rose 7.2k while part-time employment added 14.7k. Unemployment rate rose 0.1% to 5.3%, above expectation of 5.2%. At the same time, participation rate rose 0.1% to 66.2%.
In seasonally adjusted terms, from July 2019 to August 2019, the largest increases in employment were in Victoria (up 20,300 persons) and New South Wales (up 16,700 persons). The largest decrease was in Queensland (down 7,200 persons). The seasonally adjusted unemployment rate increased by 0.4 pts in South Australia (7.3%) and Tasmania (6.4%), and by 0.1 pts in Victoria (4.9%). Decreases were recorded in New South Wales (down 0.2 pts to 4.3%) and Western Australia (down 0.1 pts to 5.8%), with Queensland recording no change.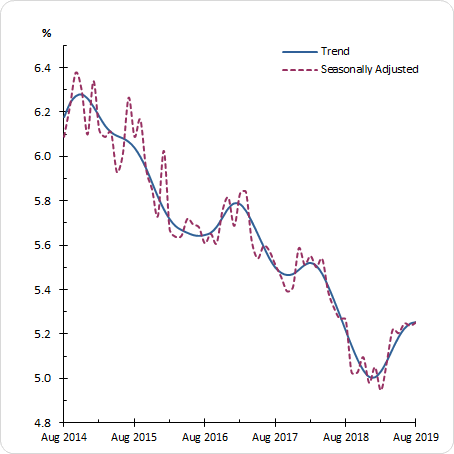 AUD/USD drops notably after the release as the rise in unemployment rate adds to the case for more RBA rate cut this year. The break of 0.6807 minor support now suggests that corrective rise from 0.6677 has completed with three waves up to 0.6894. Further fall should now be seen back to retest 0.6677 next.