China Caixin Manufacturing PMI rose slightly to 51.8 in November, up from 51.7 and beat expectation of 51.4. Markit noted there were solid increases in output and new business. Employment was broadly stable while inflationary pressures remained weak.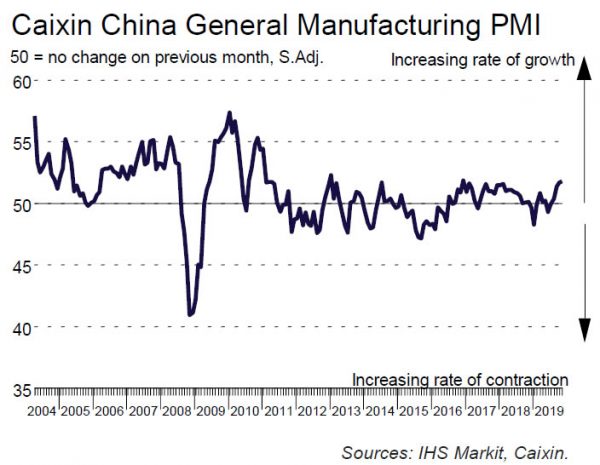 Commenting on the China General Manufacturing PMI™ data, Dr. Zhengsheng Zhong, Director of Macroeconomic Analysis at CEBM Group said:
"China's manufacturing sector continued to recover in November, with both domestic and overseas demand rising and the employment subindex returning to expansionary territory for the second time this year.
"However, business confidence remained subdued, as concerns about policies and market conditions persisted, and their willingness to replenish stocks remained limited. This is a major constraint on economic recovery, which requires continuous policy support. Currently, manufacturing investment may be lingering near a recent bottom. A low inventory level has lasted for a long time. If trade negotiations between China and the U.S. can progress in the next phase and business confidence can be repaired effectively, manufacturing production and investment is likely to see a solid improvement."
Released over the weekend, the official PMI Manufacturing rose to 50.2 in November, up from 49.3 and beat expectation of 49.5. PMI Non-Manufacturing rose to 54.4, up from 52.8 and beat expectation of 53.1.