Eurozone Sentix Investor Confidence dropped to 5.2 in February, down from 7.6, missed expectation of 6.1. Current Situation index dropped to 4.0, down from 5.5. Expectations index dropped to 6.5, down from 9.8.
Sentix said: "The outbreak of the corona virus and the subsequent drastic measures taken by the Chinese government to seal off the mainly affected Hubei province with the provincial capital Wuhan cast a shadow over the economic outlook.
As much as the consistent approach of the Chinese government is to be welcomed from a medical point of view and for the protection of the people, the damage could have a negative impact on the global economy if the virus continues to spread uncontrolled and thus prolongs the crisis."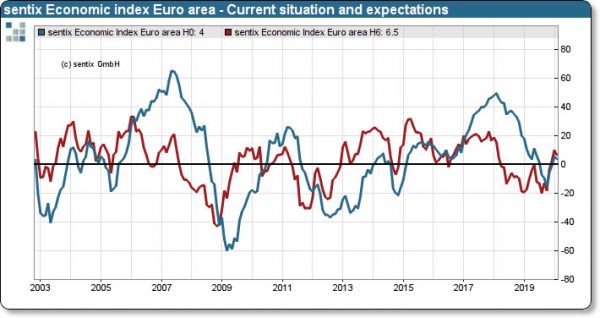 For the US, though, overall index rose from 15.9 to 203, highest since November 2018. Current Situation index rose from 31.0 to 38.3, highest since May 2019. Expectations index rose from 1.8 to 3.8, highest since February 2018. All three indices had the fourth increases in a row.