German Ifo Business Climate rose to 96.1 in February, up from 95.9, beat expectation of 96.0. Current Assessment index rose to 93.4, up from 92.9, beat expectation of 93.3. However, Expectations index dropped slightly to 98.9, down from 99.1, missed expectation of 99.0.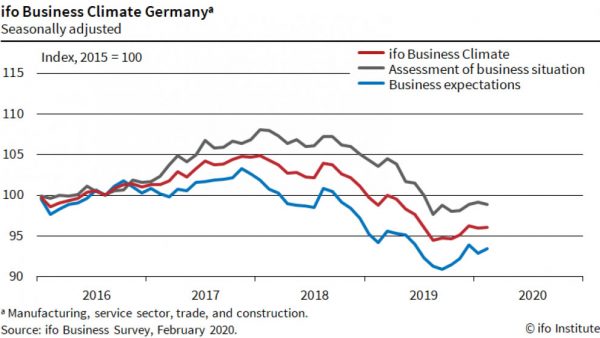 Clemens Fuest, President of the ifo Institute, said, "the German economy seems unaffected by developments surrounding the coronavirus. The survey results and other indicators suggest economic growth in the first quarter will amount to 0.2 percent."
Looking at some details, manufacturing index rose from -1.6 to -1.3, staying negative for the eighth straight months. Services index dropped for the third month, down form 18.8 to 17.3. Trade index dropped form 2.2. to 1.0. Construction index dropped from 13.5 to 13.1.