Australia employment rose 114.7k to 12.46m in July, better than expectation of 40k. It's also a positive for full-time job to rise 43.5k to 8.55m. Part-time jobs rose 71.2k to 3.91m. Unemployment rate rose less than 0.1% to 7.5%, better than expectation of 7.8%, even though that's a 22-year high. Participation rate also rose 0.6% to 64.7%.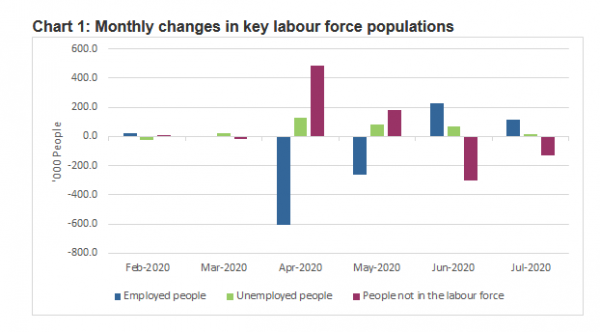 Still, Bjorn Jarvis, head of Labour Statistics at the ABS, said: "The July figures indicate that employment had recovered by 343,000 people and hours worked had also recovered 5.5 per cent since May. Employment remained over half a million people lower than seen in March, while hours worked remained 5.5 per cent lower. "
"The July data provides insight into the Australian labour market during Stage 3 restrictions in Victoria. The August Labour Force data will provide the first indication of the impact of Stage 4 restrictions." Jarvis said.