Revisiting GBP/CHF that we covered here last week. The strong up trend continues as seen in the action bias table.

It's also apparent in the D action bias chart that momentum is very solid.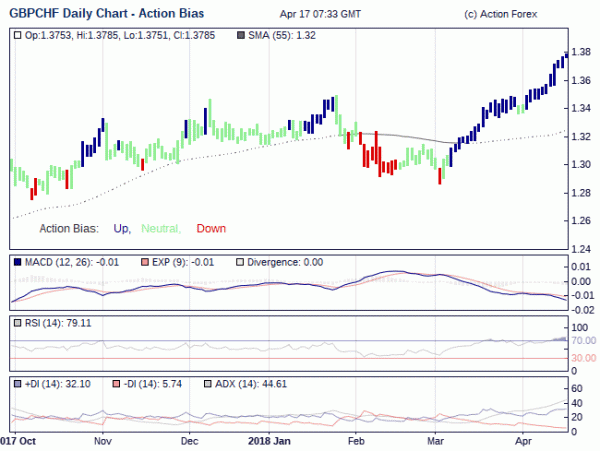 Now that 61.8% projection of 1.2219 to 1.3419 from 1.2861 at 1.3647 is firmly taken out, next upside target will be 100% projection at 1.4133.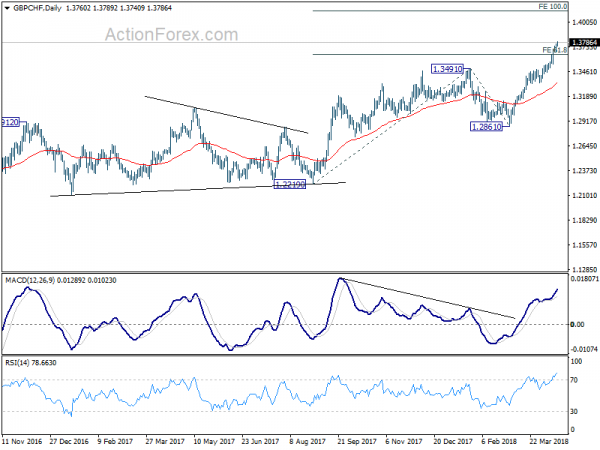 The path will be subject to the job and inflation data to be released today and tomorrow. Market expect today's data to show average weekly earnings growth accelerating from 2.8% 3moy to 3.0% 3moy. Headline CPI to be released tomorrow is expected to be unchanged at 2.7% yoy, while core CPI is expected to accelerate to 2.5% yoy.
Meeting these expectations will solidify the case for BoE to raise the Bank rate again in May. And the chance of another hike in November would increased too. Missing these expectation might trigger some rethink of the BoE expectations. That could trigger a setback in GBP/CHF's rally. But the setback should be temporary even in that case, as BoE is still on it's tightening path. It's just about the pace.