As widely anticipated, RBA left its cash rate, for an 8th meeting, at 1.5% in April. While headline CPI has more or less reached the central bank's target level, the core reading has remained subdued. Policymakers have decided to take more time to gauge the inflation outlook before action. Meanwhile, the unemployment rate has remained elevated while excess capacity in the job market has rendered wage growth weak.
The RBA reiterated its rhetoric on the housing market, suggesting conditions 'continue to vary considerably around the country'. Policymakers would be cautious over adopting another rate cut as previous reductions have caused a surge in housing produces and rebound in investment related credit growth. A rate hike is equally unlikely as Australian dollar has remained at historically high levels.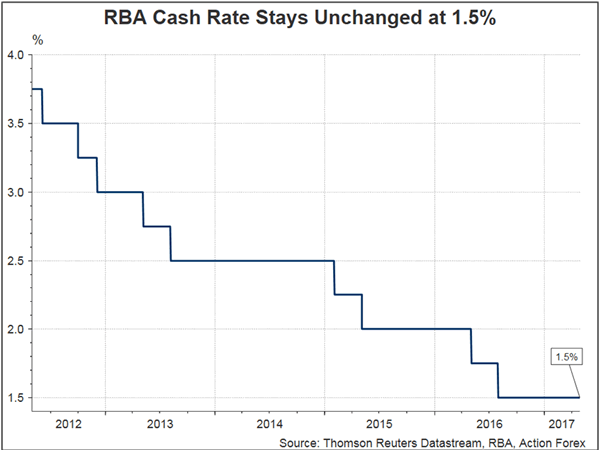 Housing markets: Continue to vary considerably around the country
On the housing market, policymakers reiterated that conditions 'continue to vary considerably around the country'. They acknowledged that 'prices have been rising briskly in some markets and declining in others. In the eastern capital cities, a considerable additional supply of apartments is scheduled to come on stream over the next couple of years'. Additionally, rent increases are the slowest for two decades.
Growth in housing debt has outpaced the slow growth in household incomes. The recently announced supervisory measures should help address the risks associated with high and rising levels of indebtedness'. The latest data from CoreLogic showed that Sydney housing prices dropped in April, while growth in Melbourne prices decelerated. Yet, it would be premature to call that Australian property prices have peaked after just one month of moderation.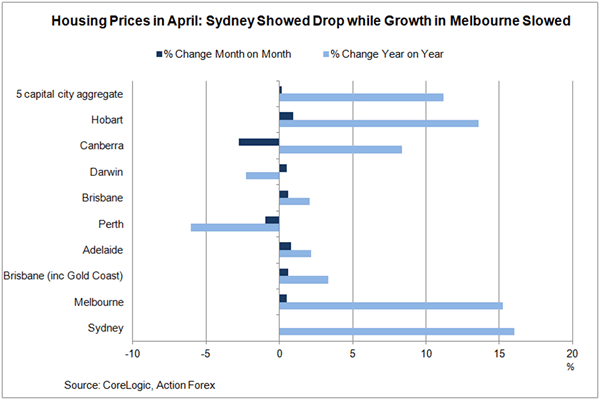 Headline inflation picked up
On other macroeconomic developments, policymakers acknowledged the pick-up in headline inflation rates, as a result of 'higher commodity prices'. Yet, core CPI remained low.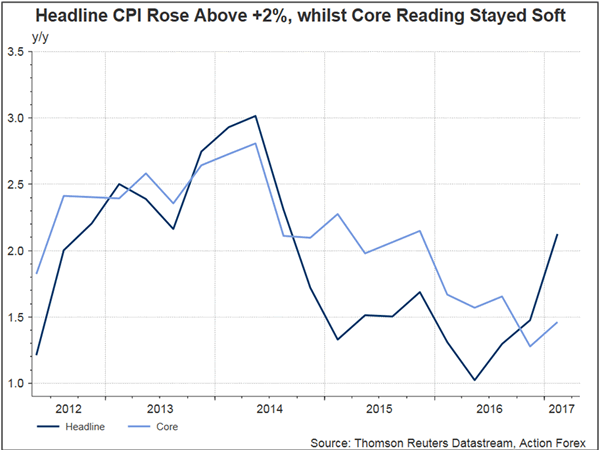 Growth outlook unchanged
The economic growth outlook has stayed unchanged with growth 'expected to increase gradually over the next couple of years to a little above +3%'. RBA suggested that the economy is 'continuing its transition following the end of the mining investment boom, with the drag from the decline in mining investment coming to an end and exports of resources picking up'.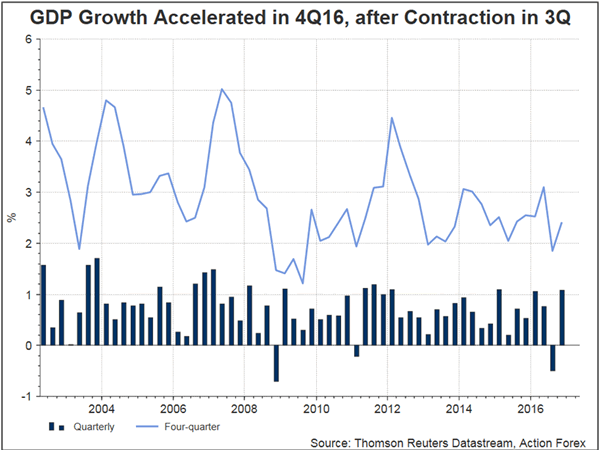 Mixed picture in job market
Policymakers saw a mixed picture in the job market, noting that a modest increase in the unemployment rate has been accompanied with a little stronger growth in payrolls. Policymakers expected the unemployment rate to 'decline gradually over time' while wage growth would remain 'slow and this is likely to remain the case for a while yet'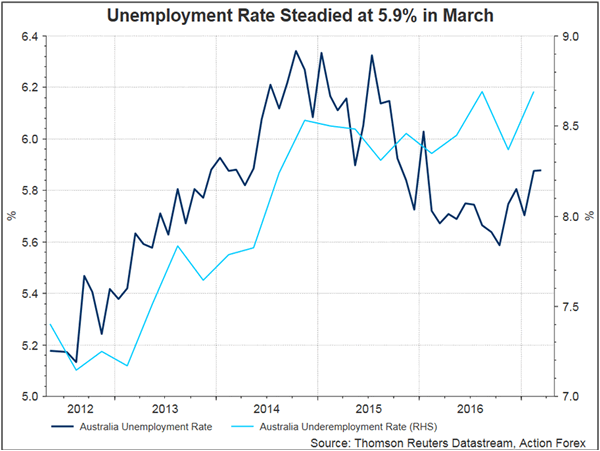 Repeating what has been stated in recent months, RBA 'judged that holding the stance of monetary policy unchanged' would be 'consistent with sustainable growth in the economy and achieving the inflation target over time'. We retain the view that RBA would stay on hold for the remainder of the year.