BOC is expected to leave the policy rate unchanged at 1.75% this week, and for the rest of the year. Data flow since the last meeting has remained resilient, offering the central bank more room to take a wait and see mode and assess the economic developments. We believe the policy statement would be largely similar to the previous meeting, with policymakers reiterating that the "degree of accommodation being provided by the current policy interest rate remains appropriate", while pledging to monitor incoming data on future adjustment of the monetary policy.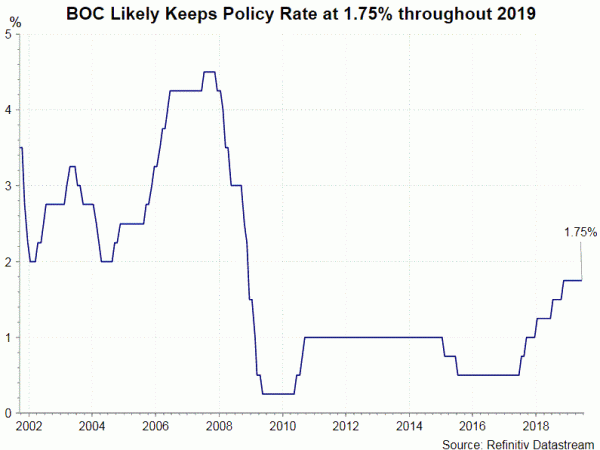 Employment situation remained firm in June. The unemployment climbed +0.1 percentage point to 5.5%, with participation rate unchanged at 65.7%. The bigger pleasant surprise came from wage growth with the average hourly wage expanded+3.6% y/y, accelerating from +2.55% in the prior month. Over the past six months, wages are up an annualized rate of +6.5%, the fastest since 2007. The disappointment came from the number of payrolls, which dropped -2.2K, missing consensus of a +10K increase and May's +27.7K addition. Yet, the reduction was due to part-time jobs, while full time jobs actually rose +24.1K.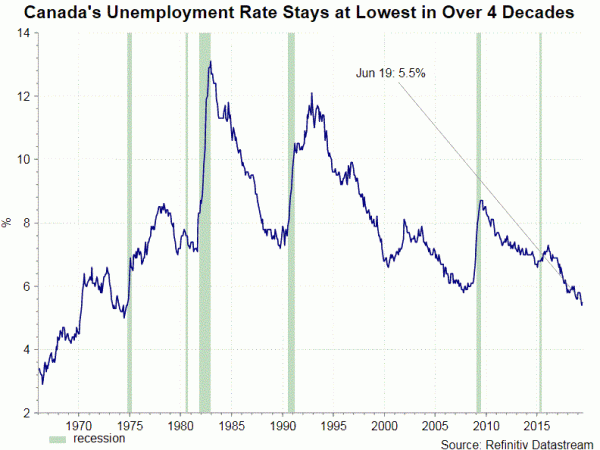 Inflation has risen above BOC's target. Headline CPI accelerated to +2.4% y/y in May from +2% in the prior month, beating consensus of +2.1%. Core CPI improved significantly to +2.1%, from April's +1.5%. Moreover, the average for BOC's three preferred inflation gauges came in at +2.07%, up from +1.9% in April.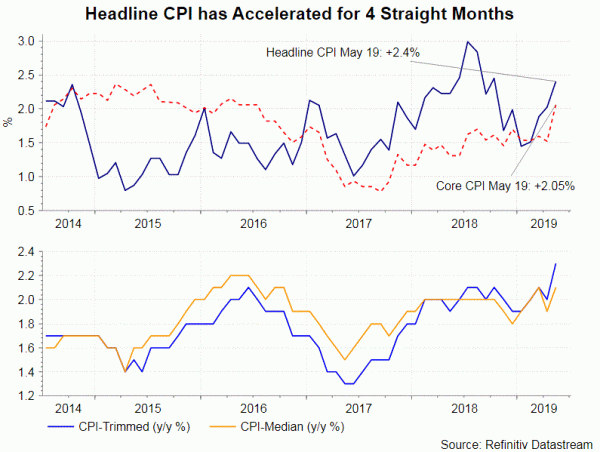 Being the major destination of Canada's exports, the US monetary policy should have direct impact on that of Canada. Expectations that the Fed would lower interest rate later this year might lead BOC to follow suit. Yet, things could be different this time. While the spillover of the US-China trade war could still affect Canada's economic development, the impact would be less significant, in particular the USMCA, a trilateral trade agreement among Canada, Mexico and US in replacement of NAFTA, was settled. Recent economic developments suggest that BOC would keep its powder dry throughout the year.
As we look back in interest rate normalization cycle after the 2007/08 global financial crisis, BOC has raised its policy rate less aggressively that the Fed. That is, more stimulus measures are in place in Canada, when compared with the US, to support economic growth. This has offered BOC more flexibility to wait and see before taking further action to adjust its policy.