As widely anticipated, RBA left the cash rate unchanged at 0.75% in December. The central bank was cautiously optimistic about domestic economic development. While seeing turning points on the economic in general and the housing market in particular, the members remained concerned about consumption and the job market. They reiterated an easing bias on the monetary policy. We expect the central bank cut the policy rate by -25 bps in 1Q20 as the employment situation remains subdued.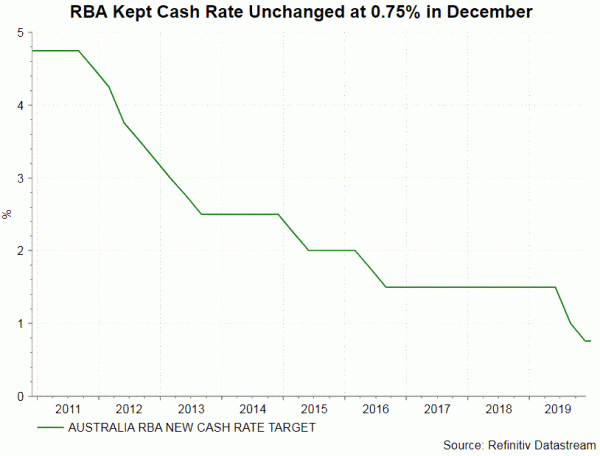 The central bank acknowledged that the country's economy has "reached a gentle turning point". However, some downside risks remained. For instance it suggested that "the main domestic uncertainty continues to be the outlook for consumption, with the sustained period of only modest increases in household disposable income continuing to weigh on consumer spending". Moreover, "the effects of the drought and the evolution of the housing construction cycle" have contributed other uncertainties.
Weakness in the employment market has been a headache for RBA. The language turned more downbeat on the topic. The policy statement removed the reference that "employment has continued to grow strongly". It only noted that unemployment had been "steady" while highlighted that "wages growth is subdued" and "recent outcomes suggest that the Australian economy can sustain lower rates of unemployment and underemployment". In October, Australia's unemployment climbed higher to 5.3%, the highest level since June 2018.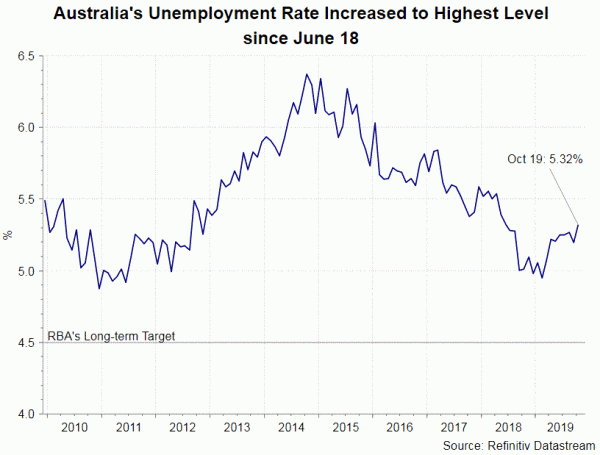 RBA maintained an expansionary monetary policy stance in the meeting. In the concluding statement, RBA pledged that it would continue to monitor the economic developments, especially the "labor market". It added that "due to both global and domestic factors, it was reasonable to expect that an extended period of low interest rates will be required in Australia to reach full employment and achieve the inflation target" Lastly, the RBA affirmed that it is "prepared to ease monetary policy further if needed to support sustainable growth in the economy, full employment and the achievement of the inflation target over time".