We expect the BOE to stand pat at this week's meeting. October's GDP came in weaker than expected, and the renewed restrictive measures to curb spread of the new Omicron variant could affect household consumption and put a brake on the job market improvement. We expect policymakers to wait for more certainty about the development of the pandemic and delay the first rate hike to February 2022.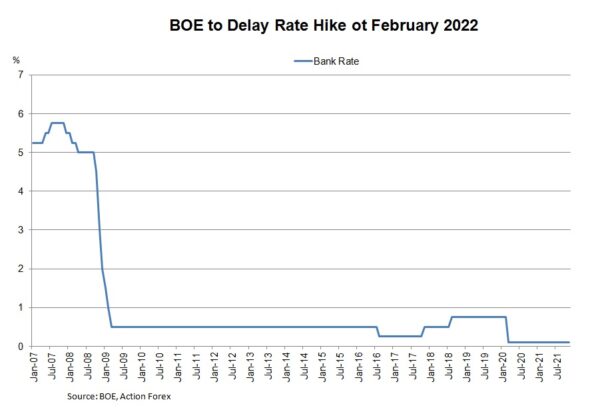 GDP grew +0.1% m/m in October, missing consensus of +0.4%. September's growth was +0.6%. On a 3m/3m basis, the economy expanded +0.9%, down from +1.3% in September. Other activity data in October also slowed. For instance, industrial production grew +1.4% y/y, compared with consensus of +2.2% and September +2.9%. Growth in manufacturing production and construction output also eased and missed expectations.
The job market remains resilient with the ILO unemployment rate slipped -0.1 ppt to 4.2% in the 3 months through October, in line with expectations. Claimant count fell -31.5K in November, after a -14.9K drop a month ago. The market had anticipated a bigger decline of -49.7K. The market expects inflation to have accelerated to +4.7% y/y in November from +4.2% in the prior month. Core CPI might have risen to +3.8% y/y, from October's +3.4%.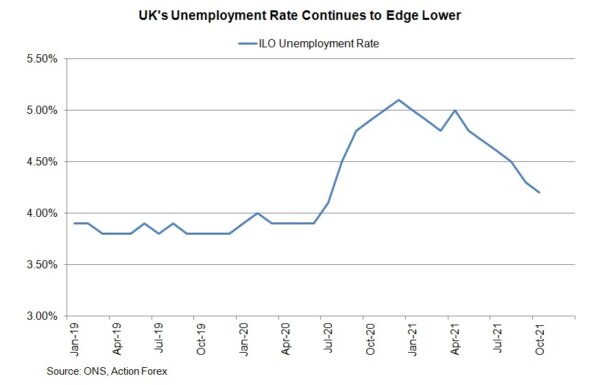 The rapid uptick of the number coronavirus cases has sent the UK back to Plan B restriction. Face masks are required in a number of venues and people must work from home if possible. There are rumors that plan C (stricter rules) would be implemented after Christmas. Meanwhile, the government announced plan to speed up third jab among adults. The Omicron variant has indeed increased uncertainty of the economic outlook. We expect the BOE would adopt a wait-and-see mode and leave the Bank rate 0.1% in December. The first rate hike would likely come in February, with a +15 bps increase.