The BOC left the policy rate unchanged at 1% in December. While acknowledging the strength in the employment situation, it warned of the slack in the labor market. While upgrading GDP growth forecast, it noted that it does not necessarily imply a narrower output gap. While admitting the policy rate would have to increase over time, it reiterated caution over any monetary decision. All in all, the central bank attempted to deliver a neutral to dovish message, so as not to cripple the recovery path – a lesson learnt after two consecutive rate hikes in July and September. Canadian dollar plunged after the announcement, with USDCAD jumping to as high as 1.2777, highest level in three days.
Canada's unemployment rate plunged to almost a decade low of 5.9% in November. The number of payrolls added was +79.5K, beating consensus of only a +10K addition. BOC acknowledged the improvement. However, it added that "despite rising employment and participation rates, other indicators point to ongoing – albeit diminishing – slack in the labour market".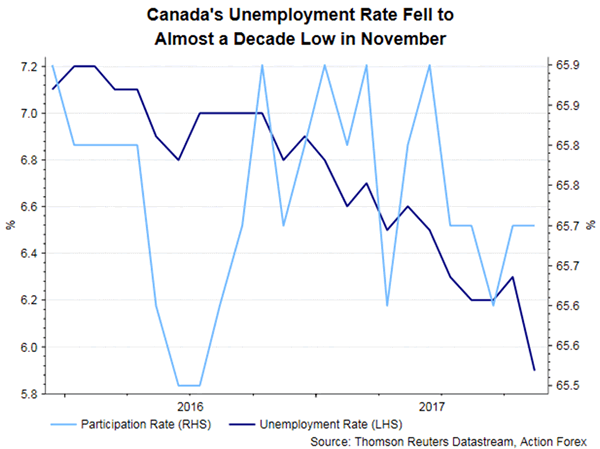 Inflation has remained subdued, offering the central bank the strongest reason to stay on hold. Despite modest pickup, core CPI stayed below +1% (at +0.9%) in November. Meanwhile, all of BOC's inflation measures stayed way below the +2% target. The central bank noted the recent improvement on inflation, noting that it "has been slightly higher than anticipated and will continue to be boosted in the short term by temporary factors, particularly gasoline prices". It also noted that "measures of core inflation have edged up in recent months, reflecting the continued absorption of economic slack". Regarding to the upgrade of the GDP growth estimate, policymakers attributed it to "revisions to past quarterly national accounts" and stressed that it "is unlikely to have significant implications for the output gap because the revisions also imply a higher level of potential output".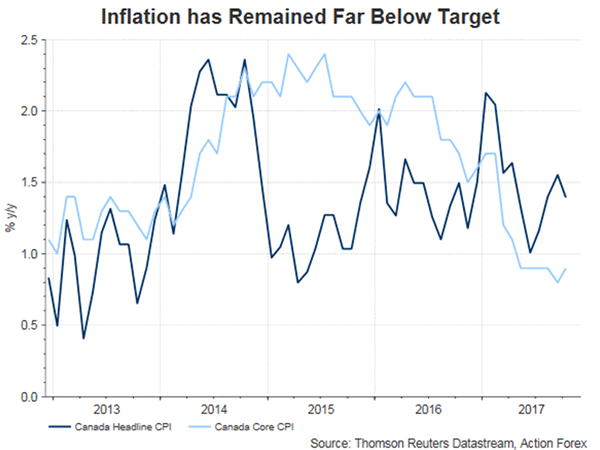 BOC omitted the October references related to the loonie's strength. In October, the members pushed back the timing that inflation would rise to +2%, suggesting that this was driven by "recent strength in the Canadian dollar". They also noted that "projected export growth is slightly slower than before, in part because of a stronger Canadian dollar. These references disappeared in December, as Canadian dollar has remained under pressure during the intermeeting period.
On the monetary policy outlook, the BOC hinted the next move would likely be a rate hike. As noted in the accompanying statement, "while higher interest rates will likely be required over time, Governing Council will continue to be cautious". It affirmed that "the current stance of monetary policy remains appropriate".