BOC raised the policy rate by +25 bps to 1.25% in January, as 'recent data have been strong, inflation is close to target, and the economy is operating roughly at capacity'. The move had been widely anticipated. As such, we observed the instant 'sell the news' move in USDCAD after the announcement. Canadian dollar's retreat was pared later in the day, though, as the market has priced in another rate hike by May. Policymakers remained cautious over future rate hikes and cited the uncertainty in the NAFTA renegotiations as a risk. Yet, the market appeared to have shrugged off these comments.
At the press conference, Governor Poloz stressed that the monetary policy decision is 'data dependent', and 'there's no question that the data on balance since October have been stronger than our base case'. The central bank was upbeat over both global and domestic economic developments. The obviously hawkish note was its upgrades on the assessment of slack, suggesting that the 'economy is operating roughly at capacity'. In December, it remained focused on the 'continued absorption of economic slack'. The central bank also acknowledged that 'labor slack is being absorbed more quickly than anticipated'.
The central bank also released its latest Monetary Policy Report (MPR), providing updated economic projections. The staff projected GDP growth to average at +3% in 2017, followed by +2.2% in 2018 (up from +2.1% in October's estimate). Growth should ease further to +1.6% in 2019 (up from October's +1.5% forecast). A major risk facing Canadian economy is the uncertainty around NAFTA negotiations which is 'clouding the economic outlook'. As such, the latest economic projections have incorporated 'additional negative judgment on business investment and trade' of NAFTA uncertainty.
BOC acknowledged that inflation is moving close to target, but cautioned over fluctuation in the months ahead due to temporary factors. Revisions to the inflation forecast were modest and policymakers expect it to reach the +2% target in mid-2018, about a quarter earlier than projected in October.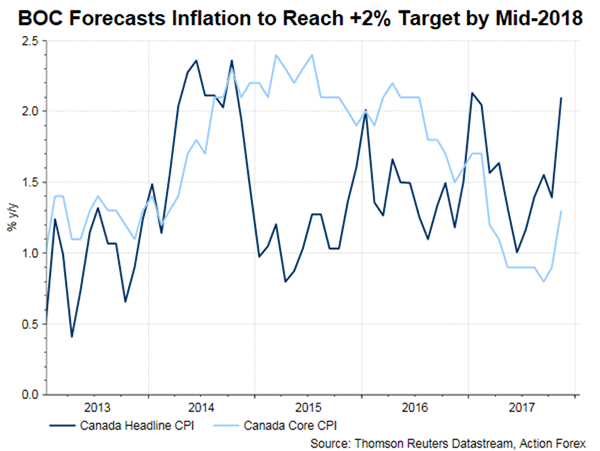 On the monetary policy outlook, BOC admitted that 'the economic outlook is expected to warrant higher interest rates over time'. Yet, in order not to trigger excessive strength in the loonie which would be a drag the economic recovery, it affirmed that 'some continued monetary policy accommodation will likely be needed to keep the economy operating close to potential and inflation on target' and the 'Governing Council will remain cautious in considering future policy adjustments'.