China's trade surplus widened to US$ 34B in October. Exports grew +15.6% y/y, beating consensus of +11.7% and September's +14.5%. Import expanded +21.4% during the month, exceeding market expectations of +14.5% and +14.3% in September. Interestingly, the headline trade data does not seem to be dragged by US' trade tariff. Indeed, exports to the US rose +13.2% y/y. While it marked a slowdown from +14% in September, the drop was less significant than expected..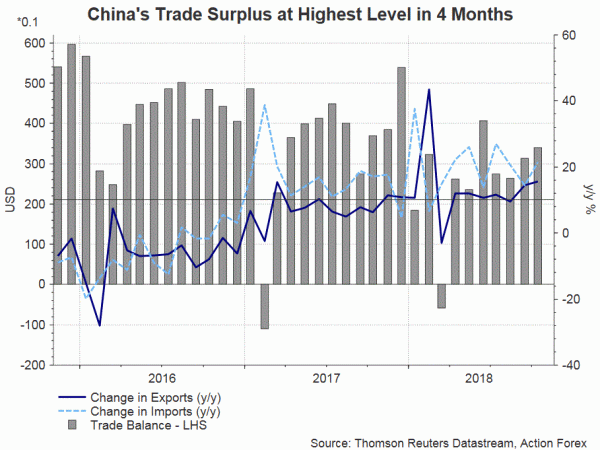 Looking into details, we found that the strong exports growth was due to increased shipment to emerging markets. Exports to Russia (+16.0% vs Sep's +6.7%), Brazil (+22.8% vs Sep's 3.6%), India (+24.2% vs Sep's +20.0%), Korea (+7.7% vs Sep's +2.7%), and Taiwan (+16.8% vs Sep's +5%) together contributed +1% to headline growth. Economic activities appeared to have improved in these countries, as signaled in PMI reports. By contrast, export growth did not only drop in the US market, but also in other advanced economies, including EU (+14.6% vs Sep's +17.4%) and Japan (+7.9% vs Sep's 14.3%). This indicates China's intention to shift its focus from the US, as well as other advanced economies, to the emerging markets. While the move away from the US is likely due to trade war, the lower growth in other advanced economies could be due to the moderation in economic activities in these countries.
As we mentioned above, the moderation in exports growth to the US was insignificant, although the US extended the 10% tariff to US$200B of Chinese goods from September 24. We still see October's exports distorted by the front-loading of shipping, as buyers sought to avoid another round of tariff in January 2019, when US would raise the tariff rate to 25% from the current 10%.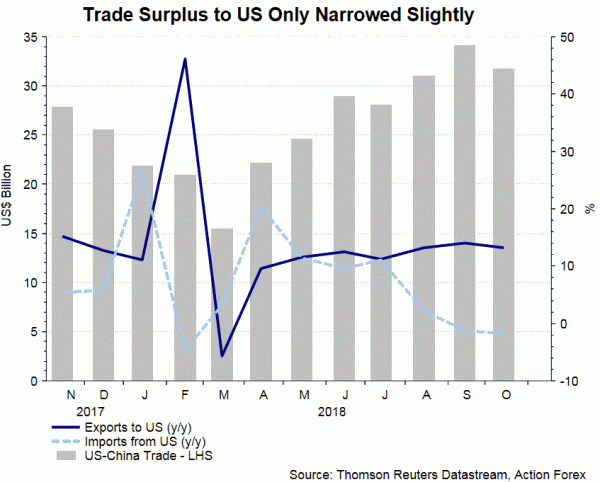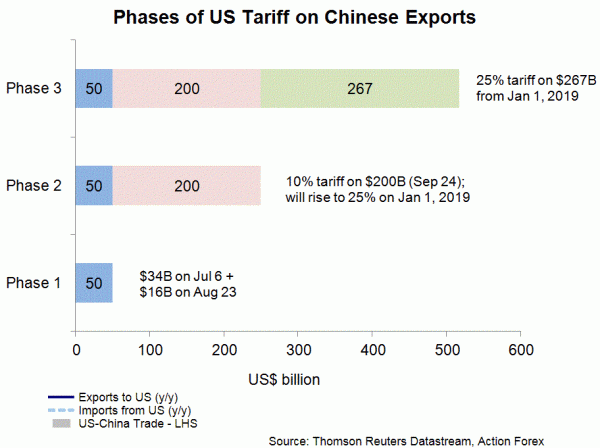 The better- expected- than expected trade data appears contradictory to the government's October PMI report released two weeks ago. Recall that manufacturing PMI fell -0.6 percentage point to 50.2 while non-manufacturing PMI declined -1 percentage point to 53.9. On trade activities, new orders remained in expansionary territory while export orders slipped to 46.9 from 48. A reading below 50 signals contraction. In analyzing PMI data, we should understand that it is a qualitative survey seeking response from purchasing managers on their perception of the industry. As such, their sentiment could be driven by factors other than the trade war. Meanwhile, China's official PMIs focus on large corporations. This might signal that the impact of trade war could be more seriously experienced by small and medium firms.