The official manufacturing PMI data, published by the National Bureau of Statistics, slipped -0.3 point to 49.2 in February. The market had anticipated no change from the prior month. This shows that large corporations in the sector, staying in contraction for three months in a row, has been in the worst condition since February 2016. The freshly released reading by Markit /Caixin, focusing on small and medium firms, surprisingly rose to 49.9, from January's 48.3. This has beat consensus of 48.5.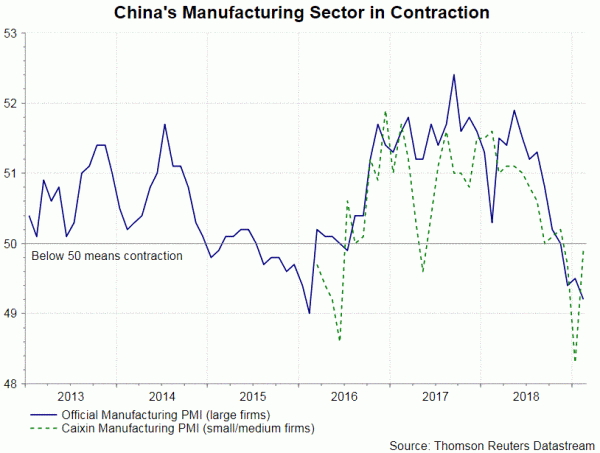 Markit/ Caixin appears positive over the development, noting that the report pointed to "an easing of the economic downturn". It suggested that the "new orders" and "output" sub-indices "returned to expansionary territory".This probably signaled improvement in domestic demand. Meanwhile, it also pointed to the strong new exports order, with the sub-index hitting its second highest level since March 2018. This shows that "foreign demand was not deteriorating as quickly as last year". The report also added a positive note that "selling prices increase for first time in four months".
Note, however, that the February data is likely distorted by seasonal factors – the week long Lunar New Year holiday. Meanwhile, in addition to the "double-11" festival in November, Western Valentine's Day on February 14 and the Lantern Festival on February 19 this year are periods for big spending in the country. these might have inflated "new orders" and selling prices.
Update on PBOC's Central Bank Bill Swap
We remain cautions in China's economic outlook. As mentioned in the previous report, we expect the People's Bank of China (PBOC) to accelerate the effort to stimulate the economy through various forms of monetary easing measures. Apart from usual measures it has been using (reverse repo, RRR cut), the central bank kick off a new instrument – central bank bill swap – last week. The ultimate goal of the instrument is raise commercial banks' capability to lend. The central bank swapped RMB 1.5B of 1-year central bank bills for perpetual bonds with a coupon of 2.45%. So far, the Bank of China has issued RMB 40B worth of perpetual bonds.