Economic data in April prove that China's economy is not yet out of the wood. Growth in industrial production , retail sales and fixed asset investment all surprised to downside, suggesting that the rebound in March was only due to one-off, temporary factors. Re-escalation of US-China trade war is expected to further hurt economic sentiment and real economic growth, urging the government to accelerate easing monetary and fiscal policies in coming months.
Industrial Production
Industrial production expanded +5.4% y/y in April, missing consensus of +6.5% and sharply lower than March's +8.7%. This indicates that the strength in March was only driven by temporary factors – companies stockpiled input materials so as to benefit more from the reduction in value-added tax which took effect on April 1. The weakness in IP was indeed signaled in the PMI report released late last month. The Caixin/ Markit manufacturing PMI eased to 50.2 in April, down from a recent high of 50.8 in March. This suggested that the country's manufacturing sector remained on the verge of falling to contraction. Concerning the sub-indices, "new orders" fell slightly while "new export orders" returned to contractionary territory. Meanwhile, the "output" sub-index dropped while the "employment" sub-index returned to negative territory after hitting a 74-month high in March. While the Caixin/ Markit PMI focuses on small- and medium- size firms, the official PMI report by National Bureau of Statistics (NBS) recorded a -0.4 point drop in manufacturing PMI to 50.1 in April. The two reports suggest that the struggle in the manufacturing sector is broadly based.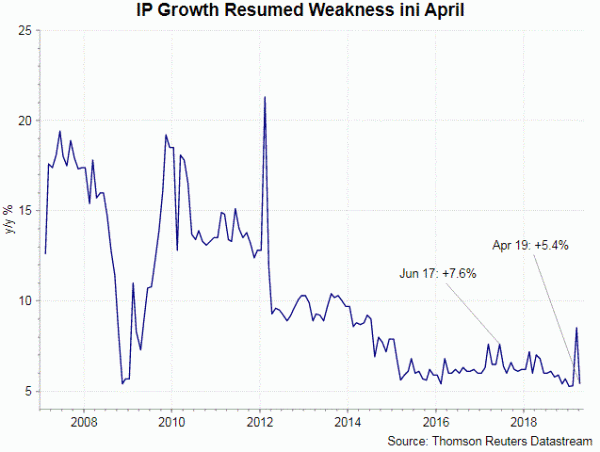 Retail Sales
Growth in retail sales weakened markedly to +7.2% y/y in April, the slowest pace since May 2003. According to the government, the slowdown was driven by seasonal factor – this April had fewer national holidays and weekends than last year. Excluding this factor, retail sales growth, at +8.7% y/y in April, was unchanged from that in March. Nonetheless, this has not altered the downtrend of retail sales expansions. We will be closely watching how China's individual tax cut would help stimulate consumption. Last month, Xinhua, the authoritarian government's mouthpiece, cited a research as saying that the tax cut could increase consumer spending by RMB 717.6B, about 1.9% of total retail sales in 2018.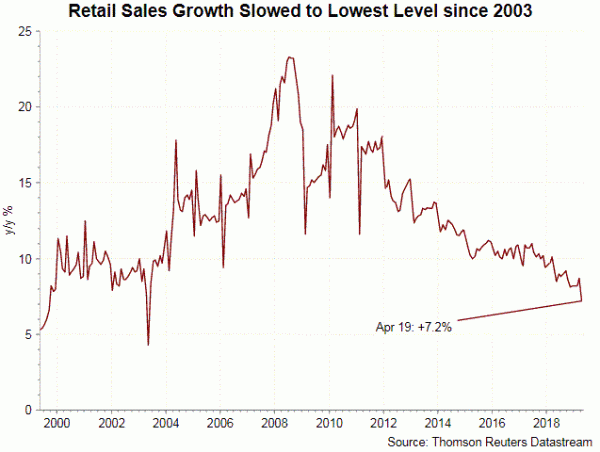 Urban Fixed Asset Investment
Urban Fixed Asset Investment grew +6.1% y/y in the first three months of the year, missing consensus of +6.4% and first quarter growth of +6.3%. This also marked the first slowdown in growth since August 2018, despite government's stimulus measures to boost investment. Manufacturing investment grew only +2.5% y/y during the period, another sign confirming the slowdown in the manufacturing sector. April's figure for infrastructural and real estate investment are not released yet.