Headline CPI in China accelerated to +4.5% y/y in November, from +3.8% a month ago. The key contributor to strong inflation is fresh vegetable and pork prices. Non-food price climbed +1% y/y from +0.9% in October. Excluding food and energy prices, core inflation steadied at +1.4% y/y. Upstream PPI contracted -1.4%, improving from -1.6% in October.
Pork price surged +110.2% y/y in November from 101.3% in the prior month. Fresh vegetable price gained +3.9% y/y in November, following a contraction of -10.2% a month ago. There are initial signs that pork price may be peaking. On a month-over-month basis, pork prices increased + 3.8%. This is compared with the double digit increases of +20.1%, +19.7% and 23.1% in October, September and August respectively.
We expect headline CPI to stay strong in coming months. Although pork price has shown signs of moderation, fresh vegetables price has picked up again. Inflation, way above PBOC's target of 3%, has limited the scope of the central bank to ease the monetary policy.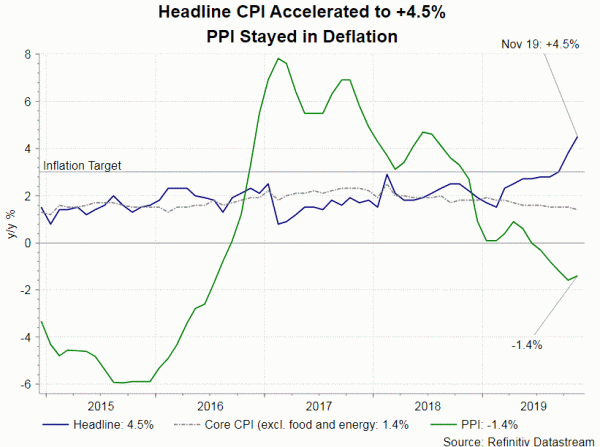 After the improvement in October, China's trade disappointed the market in November. China's exports contracted -1.1% y/y in November, worse than consensus of +1% growth and October's decline of -0.9%. Imports expanded slightly, by +0.3% y/y, following the -6.4% contraction in October. The market had anticipated a -1.8% contraction. Trade surplus narrowed to US$ 38.7B in November, from US$ 42.8B in the month ago. The market had expected a widening of US$ 44.5B.
Country-wise, exports to the US slumped -23% y/y in November, weakening from -16.2% a month ago. Shipment to the EU contracted -3.8% y/y after expanding over the past 4 months. Meanwhile, exports to Japan also fell -7.8% y/y. Shipment to ASEAN grew -18% y/y, accelerating from +15.8% in October.
Concerning China's imports of commodities, crude oil imports contracted -13.5% y/y in November, deteriorating from -9.6% in the prior month. Imports of iron ore gained +25.9% y/y, slowing from +36.3% in October. Imports of copper climbed +0.4% y/y, after a -3.7% contraction in October.
Back in October, the relatively modest contraction in exports was driven by the front-loaded trade ahead of potential US trade tariff. This probably was the cause of the weak November data.