Earlier this week PBOC announced monetary easing measures to support the economy, in light of the severity of the novel coronavirus. Concerning the latest move, PBOC announced to cut the 7-day and 14-day reverse repo rate, each by -10 bps, to 2.4% and 2.55% respectively. The -10 bps reduction was more than the central bank's usual practice of -5 bps, signaling the negative impacts of the virus to China's economy and PBOC's desire to boost growth. Following this rate cut, we expect PBOC to lower the MLF rate as well as the LRP (to be fixed on Feb 20) by -10 bps. Besides, the central bank on February 3 injected about 1.2 trillion yuan liquidity into the banking system through reverse repos. This is a large amount despite the fact that about 1.05 trillion yuan maturing on the same day. The PBOC also cut interest rates for corporations in Wuhan.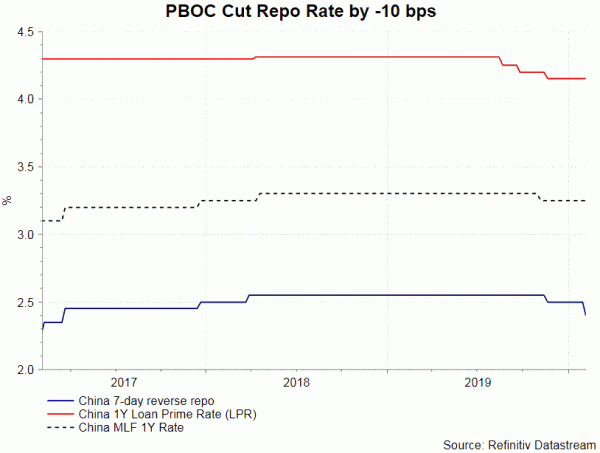 China's economy will undoubtedly be negatively affected by the epidemic. In the near-term, the services sector such as catering, hospitality, travel and transportation will suffer, as people seek to minimize contact with others and are reluctant to go out often. Online shopping platforms should shine. However, the increase in online shopping should fail to fully offset the decline in retail sales elsewhere. Manufacturing and construction activities will also be affected as some province extended the Lunar New Year holiday and migrant workers delayed their trip back to the factories.
Uncertainty is high with regard to the extent and the duration of the impacts. It depends on when the epidemic can be fully controlled. GDP growth in 1Q20 could fall below +5%. Westpac has even warned that it could be as low as +2%, compared with +6% in the second half of 2019. The government has been struggling from elevated inflation due to pork price over the past year. Decline in service demand could help ease inflation. Yet, the epidemic has increased demand for medical and personal care products. It is likely that inflation would remain above PBOC's target of 3% this year.
Going forward, we expect the government to adopt additional monetary easing measure to support growth. Besides lowering interest rates, it should reduce RRR in coming months. Besides, fiscal stimulus is also needed. We expect the government to increase spending to accelerate construction of hospitals and purchases of related medical equipment. It has been reported that China has exempted tariff of US goods that can be used for treating coronavirus, We expect it will lower tax of related products from other countries.