China's economic data for February dived, showing for the first time impacts of the coronavirus outbreak on the world's second largest economy. Originating in China, the coronavirus has now evolved into global pandemic, affecting about 100 countries and territories. The impacts on global economy are not limited to supply chain disruption, but also global demand contraction. We expect the data to remain weak in March and April. The time of recovery depends on when the pandemic will be under control.
Industrial production (IP) contracted -13.5% y/y in January and February. The market had anticipated a 3% decline. Retail sales slumped -20.5% y/y in January-February, compared with consensus of -4% y/y for the period. Automobile sales under retail sales plunged -37% y/y, compared with +1.8% y/y growth in December last year. Hubei province, origin of the coronavirus, is China's most important region of automotive parts manufacturing. Urban fixed asset investment (FAI) dived -24.5% in the first two months of the year. This is compared with market expectations of a drop of -2%.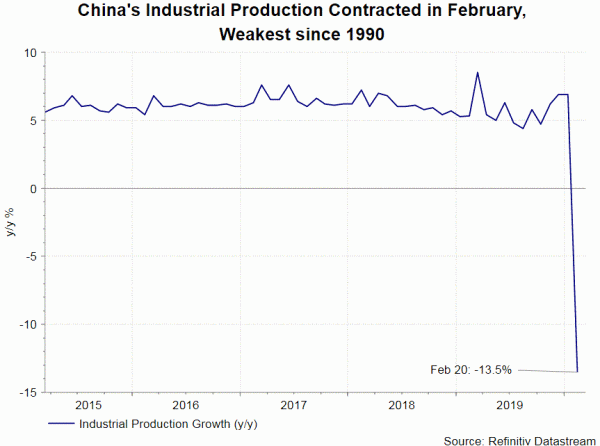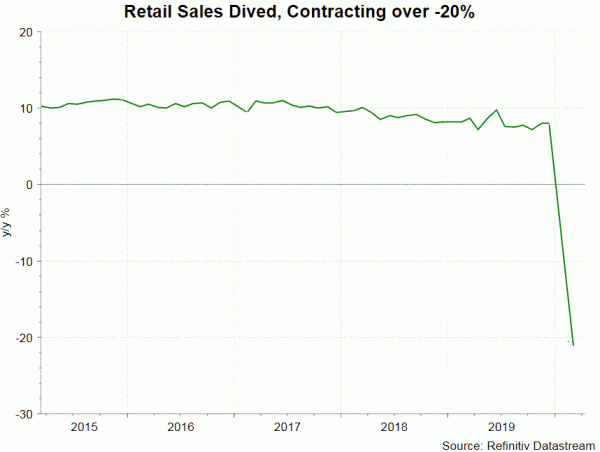 Global central banks have embarked a new round of monetary stimulus measures, trying to avoid recession. PBOC cut RRR by 50-100 bps for inclusive finance, effective today. Eligible joint-stock commercial banks would enjoy additional reduction. Besides RRR cut, the central bank also lowered the loan prime rate (LPR) on February 20, the last fixing date. With the RRR lowered, it is possible that the LRP will stay unchanged at the fixing this week. Yet, the chance of a rate cut in April remains intact.