The latest data suggests that China's economy continues to improve in the second quarter. The Markit/Caixin services PMI increased to 56.3 in April, highest since December 2020. The reading also beat consensus of 54.2 and March's 54.3. Separately, China's trade surplus tripled in April, compared with a month ago.
Markit/Caixin services PMI
Besides the strong headline reading, sub-indices rose across the board. For instance, the "new business" index gained +2 points to 55.7, a level not seen since last November. The "new export business" index returned to expansion (at 53.2 in April). The job market also improved with the "employment" index up +1.4 points to 52.7 in April. On the price level, both input and output prices remained high. The "input prices" index rose climbed +0.8 point higher to 54.5 in April. This was driven by higher labor cost and raw material prices. The "output prices" index edged slightly lower, by -0.2 point, to 52.5. Companies in the services sector remained upbeat about the outlook.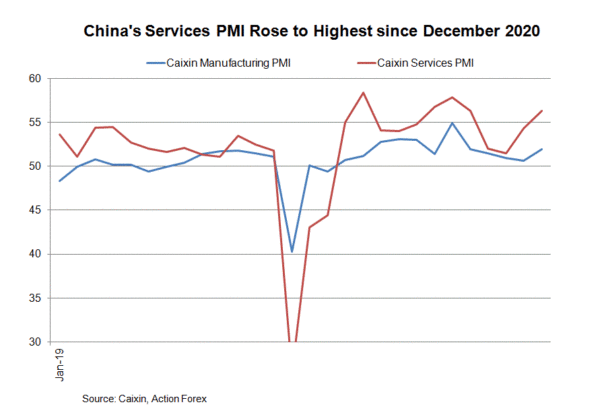 Released at end-April, the official (NBS) PMIs moderated in both manufacturing and services activities. However, the readings continued to indicate expansion in both sectors. It is hoped that the recovery in export demand could help factory orders while that the Labor Day holiday in the first week of May could help the services sector.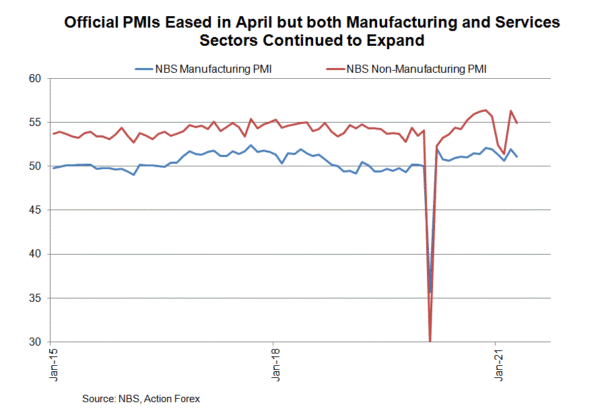 Trade Balance
China's exports jumped +32.3% y/y in April, beating consensus of +24.1% and +30.6% in March. Imports rallied +43.1% y/y. While this came in slightly weaker than consensus of +44%), the reading was stronger than March's growth of +38.1%. Trade surplus tripled to US$42.9B in April.
Growth in exports was mainly driven by demand from emerging markets. For instance, shipment to India soared +143.8% y/y, driven by demand in pandemic-related medical supplies. Exports to ASEAN also expanded +42.2%, accelerating to +14.4% in March. Exports to advanced economies eased during the month. Shipment to the US gained +31.2% y/y in April, following a growth of 53.3% a month ago, while that to EU increased +23.8%, compared with March's growth of +45.9% y/y in March. The surge in imports was mainly driven commodities. China's imports of crude oil accelerated to +73.2% y/y, while that of iron ore soared +89.6% in April. Since the changes in exports and imports were estimated in value term, commodity prices have an impact on growth. WTI and Brent crude oil benchmarks rallied +237% and +152%, respectively, in April, compared with the same period last year. Iron ore futures also jumped +124% y/y in April.