China's trade surplus surprisingly narrowed to a 6-month low of US$28.5B in September, from US$42B a month ago. The market had anticipated a milder drop to US$39.5B. Growth in exports improved to 8.1% y/y from 5.5% in August, while growth imports accelerated significantly to +18.7% from July's +13.3%. Notwithstanding a disappointing headline, the report continued to paint a healthy picture on China's economic outlook. A stronger-than-expected imports growth underpinned domestic economic strength. Exports growth, despite missing consensus, still picked up from the same period last year. More importantly, a narrowing trade surplus could tame the US' complaint of China's currency manipulation. This should help the government maintain a stable and modestly strong renminbi as CCP's 19th national congress approaches.
We notice that Aussie moved a tad higher after the trade report. This was driven by the record iron ore imports. China's iron ore imports jumped +11% y/y in September to a fresh record of 103M. The previous record of 96.5M tones was made in March. For the first nine months of the year, iron ore imports increased +7.1% to 81M tonnes. The outlook of iron ores demand in China, the biggest consumer of the raw material, is more uncertain as the government curtails steel production capacity in winter to control pollution. Producers pushed forward their production before closure, lifting iron ore demand and hence prices. Demand in coming months can slump due to curtailment. It might, however, increase as producers re-stock.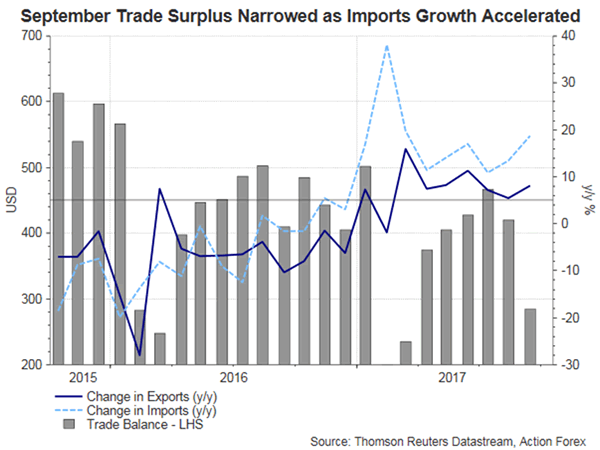 FX Reserve
On a separate note, China's FX reserve rose, for a 8th consecutive month, to a 11-month high of US$3.109 trillion in September from 3.07 trillion a month ago. Higher demand for renminbi and eased capital outflow, as a result of robust first half economic growth and the government's stringent capital controls, have led to rising FX reserve over the past months. Relieving form the recent strength in renminbi, the government has also found no urgency to dump foreign currencies. The government prefers to see a stable and stronger domestic currency ahead of the party congress begins next week. It would likely continue to maintain a modestly positive, but controllable, renminbi ahead.