People's Bank of China (PBOC) announced to cut 100 bps in the reserve requirement ratio (RRR), effective from April 25, for large commercial banks, joint-stock banks, city commercial banks, rural commercial banks, and foreign banks. While it would be applied to large and small-to -medium banks with current RRR at 17% and 15% respectively, it would not be applied to those having a RRR below 15%. It is estimated that the reduction would unleash about RMB 1.3 trillion of liquidity. However, about RMB 900B of which would be used for repaying the MLF lending, while the remaining RMB 400B, would largely go to small city and rural banks. Obviously, PBOC's aim of this move is to avoid over-tightening policy on small banks and small businesses.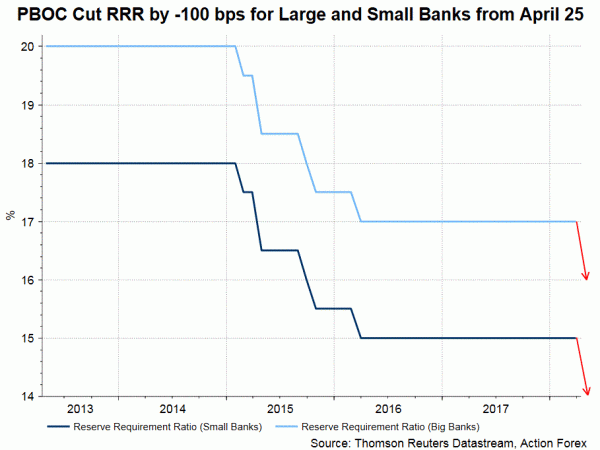 During a number of conferences held among Chinese officials, including the 19th National Party Congress, it has been reinforced that the government strives to ensure that financial sector would better serve the "real" economy, that financial institutions deleverage and that banks have appropriate liquidity. In the accompanying statement following the RRR cut, PBOC reaffirmed that its monetary policy would remain "prudent and neutral". In our opinion, the central bank's stance appears to have derailed from "prudent and neutral with a tightening bias" adopted since last year to "prudent and neutral".
The adjustment has probably driven by rising uncertainties, both at home and across the globe, this year. Domestically, despite being distorted by seasonal factors, first quarter macroeconomic data signaled that Chinese economic activities might have slowed. March credit data came in weaker than expected as a result of significant decline in off-balance-sheet lending. Total social financing (TSF) growth slowed to +10.5% in March, compared with +11.3% and +11.2% in January and February, respectively. Externally, while this is not our base case, there are still risks that US-China trade tensions could escalate to a full-blown trade war. These, together with geopolitical risks, could pose downside risk to full-year Chinese GDP growth.