China's National Bureau of Statistics reported that manufacturing PMI eased to 51.4 in April, from 51.5 a month ago. This, however, came in better than consensus of 51.3. The non-manufacturing improved to 54.8 in April from 54.6 in the prior month. The composite PMI output index also edged +0.1 point higher to 54.1 for the month. The moderation in the manufacturing sector was driven by slowdown in foreign demand, as well as the aftermath of the rapid easing in credit growth in the first quarter. Focusing on small and medium firms, Caixin/ Markit's manufacturing PMI, due Wednesday, probably slipped -0.1 point to 50.9, while services PMI, due Friday, steadied at 52.3 in April.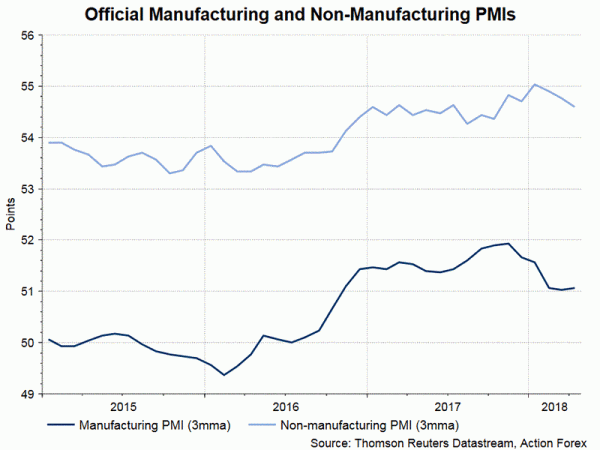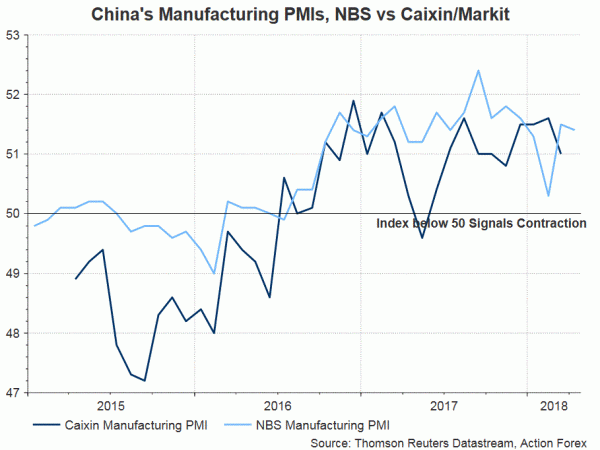 Looking into details of the official manufacturing PMI, the "new orders" index dropped -0.4 point to 52.9 while the "production" index stayed flat at 53.1. Trade-related indices fell across the board, with the "new export orders" index slipping to 50.7 from 51.3 in March and "import" index plunging -1.1 points to 50.2. Falling for 5 months in a row, the "input prices" index was down -0.4 point to 53. Despite ongoing weakness in input prices, the indication on April's PPI is less certain due to a low base.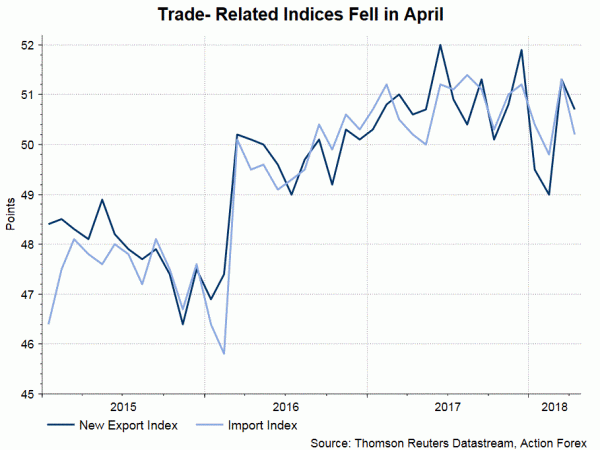 The slowdown in manufacturing PMI might be the first evidence that Chinese economic activities continued to ease in the second quarter. The world's second economy has begun to feel the pain of trade tensions with the first! Indeed, the Politburo meeting last week called for "persistently boosting domestic demand" and "more hard work" to achieve the GDP growth target of "about 6.5%" this year. In mid-April, PBOC announced to cut RRR by -100 bps, effective April 25, for large commercial banks, joint-stock banks, city commercial banks, rural commercial banks, and foreign banks. This was another proof that the authority is fully aware of the challenge ahead.
US-China trade tensions remain a major event to monitor. The visit of US economic and trade officials to China this week is closely watched. We remain hopeful that a trade war can be averted eventually, should China reveal more concrete plans to expand imports and liberalize the financial services and manufacturing sectors.