Crude oil prices weakened despite decline in US inventory levels.  At the video conference held by the OPEC+ Joint Ministerial Monitoring Committee, oil producers warned that "the pace of recovery appeared to be slower than anticipated. Yet, they dismissed increasing output cut from the current deal. The report from the US Energy Information Administration (EIA) shows that total crude oil and petroleum products (ex. SPR) stocks fell -2.61 mmb to 1443.81 mmb in the week ended August 19. Crude oil inventory dropped -1.63 mmb (consensus: -2.67 mmb) to 514.08 mmb. Stockpile fell in 3 out of 5 PADDs. PADD 3 (Gulf Coast) inventory alone declined -2.24 mmb during the week. Cushing stock slipped -0.61 mmb to 52.68 mmb. This marks the first draw in 7 weeks. Utilization rate slipped -0.1 percentage point to 80.9% while crude production steadied at 10.7M bpd for the week. Crude oil imports added +0.11 bpd to 5.73M bpd in the week.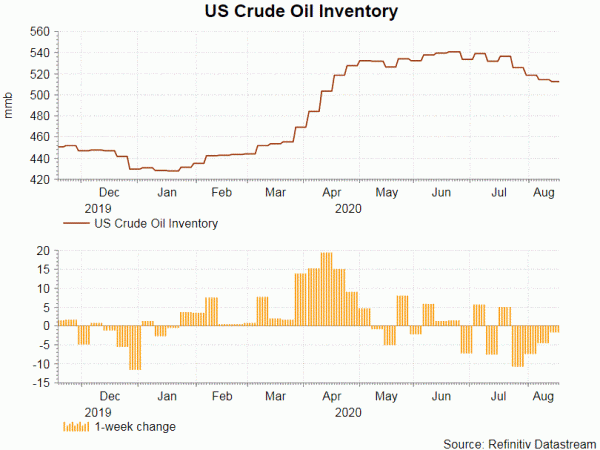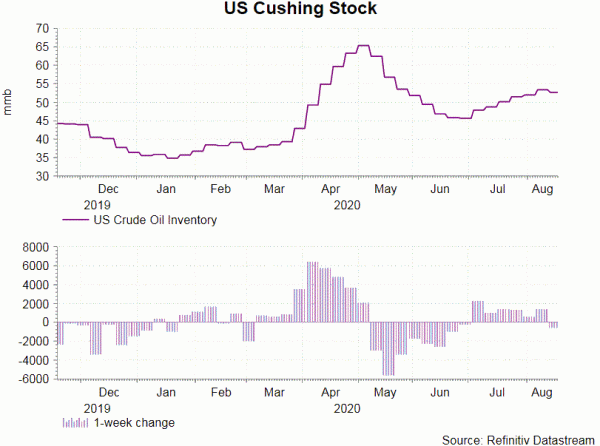 Concerning refined oil product inventories, gasoline inventory fell -3.32 mmb to 243.76 mmb as demand dropped -2.8% to 8.63M bpd. The market had anticipated a -1.06 mmb decrease in stockpile. Production slipped -2.1% to 9.4M bpd while imports plunged -45.6% to 0.56M bpd during the week. Distillate added +0.15 mmb to 177.81 mmb. The market had anticipated a -0.56 decrease. Demand dived -15.8% to 3.25M bpd. Production slipped -1% to 4.74 mmb while imports plunged -67.6% to 0.05M bpd during the week.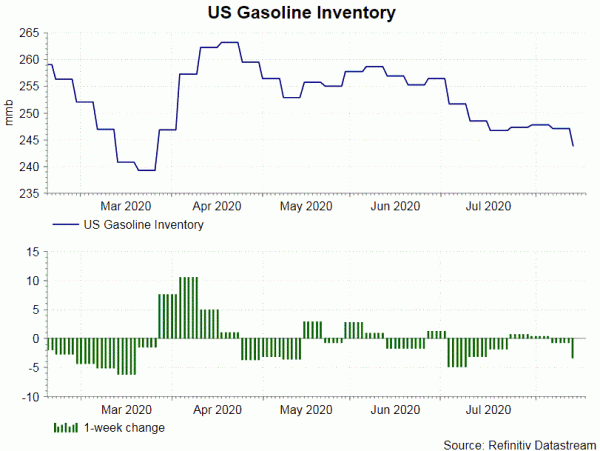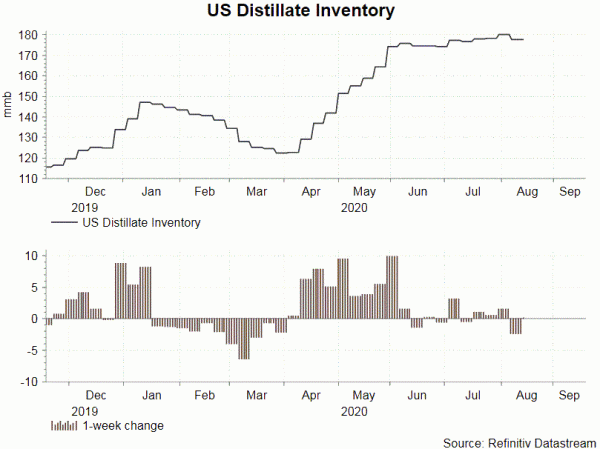 Released after market close on Wednesday, the industry-sponsored API estimated that crude oil inventory declined -4.26 mmb during the week. For refined oil products, gasoline inventory rose +4.99 mmb while that for distillate was down -0.96 mmb.