The near-term outlook on crude oil price has turned sour, as supply is projected to rise despite high uncertainty in the demand outlook. Both crude oil benchmarks fell more than -2%, as Norwegian output resumes after strike, Libya supply is set to increase further and US production facilities restart after hurricane. Apart from these short-term event risks, we reiterate that compliance problem of OPEC+ and other OPEC producers continues to pose risk on the demand/ supply outlook, limiting upside on crude oil price.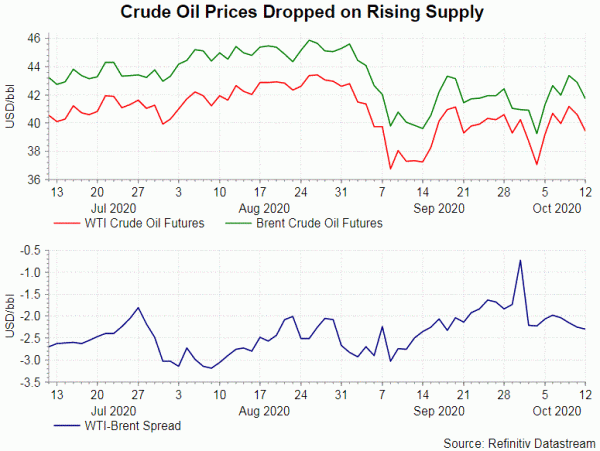 OPEC + compliance improved in September. However, concerns are growing as some non-OPEC producers and OPEC members exempted from quotas are raising production. As S&P Global/ Platts estimated, OPEC-10 compliance level increased to 101% in September, up from 97% a month ago. The members produced 21.78M bpd, compared with 21.96M bpd in August. The drop was mainly contributed by huge cut by the UAE, which offset the rise in output by 6 members in the cartel. Saudi Arabia, the largest OPEC producers, increased output slightly to 8.99M bpd in September.
Iraq and Nigeria, which had failed to comply with quotas in previous months, agreed to cut output more by end-September as "compensation". However, the latest figure suggested that Iraq produced 3.74M bpd in September, unchanged from August. Iraq's output cut was still below target if additional compensation cut of 0.4M bpd is taken into account. Nigeria produced 1.53M bpd, down 1.57M bpd in August. Compliance level rose to 90% from 78% previously. However, the country has continued to produce excessively.
Non-OPEC producers which joined the deal produced a total of 12.72M bpd in September, up from 12.67M bpd a month ago. The aggregate compliance level fell to 96% from 97% in August. Russia, the world's second largest producer, raised its output slightly to 9.1M bpd, +0.11M bpd above its quota. The compliance level steadied at 95%.
Another concern comes from producers which not bound by quotas. All 3 OPEC members exempted from quotas raised output. Libyan output jumped more than +40% to 0.17M bpd. Production is expected to increase further in coming months as militant groups lift force majeure at important oil fields. It is projected that output will increase to 0.355M bpd after oil facilities in the Sharara oilfield resume operation. Meanwhile, output in Venezuela and Iran increased to 0.39M bpd and 2M bpd, up +14.7% and 2.6% respectively, in September.