Both crude oil benchmarks have been range-bounded after pulling back from the peaks in early March. Although global economic recovery is still underway and the pandemic situation has largely stabilized, the ramp-up of output by OPEC members and non-OPEC producers have raised concerns over whether the growth in world demand could absorb supply. This could cause crude oil prices to continue hovering around current levels in coming months.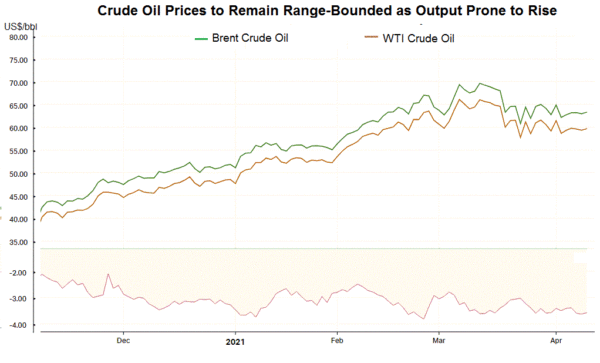 OPEC+ to Raise Output
Earlier this month, OPEC+ announced a plan to increase production in coming months. The alliance agreed to raise output by +0.35M bpd in both May and June, followed by a +0.44M bpd increase in July. Meanwhile, Saudi Arabia will reverse its voluntary output cut (of 1M bpd) gradually in 3 months from May through July. The plan is expect to add back about 2M bpd output from OPEC+ by the beginning of 3Q21.
Indeed, several members in the alliance have been longing for adding output, in light of bigger demand outlook and global economic recovery. Quota compliance has shown signs of decline recently. According to S&P Global/ Platts' estimate, seven out of ten OPEC-10 members produced more than their assigned quotas in March. This is compared with six members in February. Compliance level of OPEC-10 dropped to 120.6%, from 123.6% in February. Although compliance level still exceeded 100% (suggesting that total production was below the aggregate quota for OPEC-10), this was mainly driven by Saudi's voluntary output cut. Five out of nine non-OPEC producers produced more than their assigned quotas last month, compared with four in February. Compliance level also dropped to 91.3%, from 95.6% in February.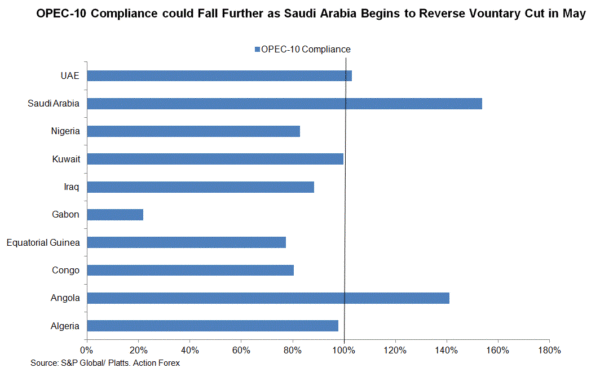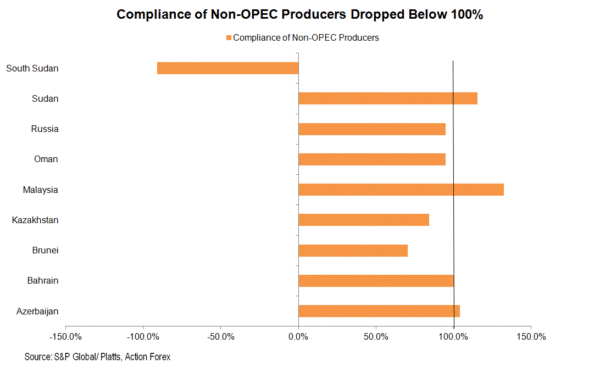 Iran-US Nuclear Deal
Iran and Libya (exempted from the output cut deal) together raised output by +0.22M bpd in March. Iran produced 2.3M bpd in March, up from 2.14M bpd a month ago. Its output could increase further if the negotiation with the US turns out to be constructive. The recent pullback in crude oil prices is driven by hopes of sanction relief and more Iranian barrels to market. Iran's pre-sanction capacity was 4M bpd, 74% above current output.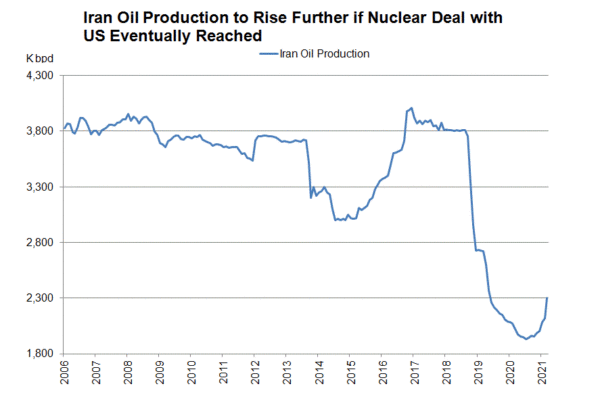 Ramp-up of US Drilling Activities
While OPEC+ retrains production, US producers expand investment amidst rising oil prices. The number of US oil rigs increase to 337 units, highest in almost a year, in the week ended April 9. Oil rig count has doubled from the tough in August 2020.