The recent selloff in Japanese yen and widening in US-Japan yield differentials have been driven by the FOMC rate hike and expectations of further tightening in US monetary policy. Indeed, BOJ's action has minimal impact on the phenomena of late. BOJ on Tuesday left its interest rate targets unchanged with the short-term and -10 bps and the 10-year JGB yield at around 0%. The asset purchase program also stays at approximately 80 trillion yen of JGBs annually. The central bank also upgraded its current economic assessment and outlook.
The recent rally in US Treasury yields has sent the JGB yields higher. Meanwhile, depreciation of Japanese yen has accelerated with USDJPY rising to 10-month highs. Yet, the BOJ retained the measure to control the 10-year JGB yield at around 0%. At the press conference, Governor Kuroda, affirmed that the current monetary policy framework was key to sustaining momentum toward achieving the 2% inflation target. It would be premature to consider raising the 10-year yield target for now. He added that the yield target has been set at 'around' 0%. As such, a certain degree of deviation from 0% is acceptable. He added that BOJ is ready to increase regular or fixed-rate JGB purchases if necessary. Kuroda was not concerned about recent depreciation in Japanese yen, noting it has only returned to the level seen in February.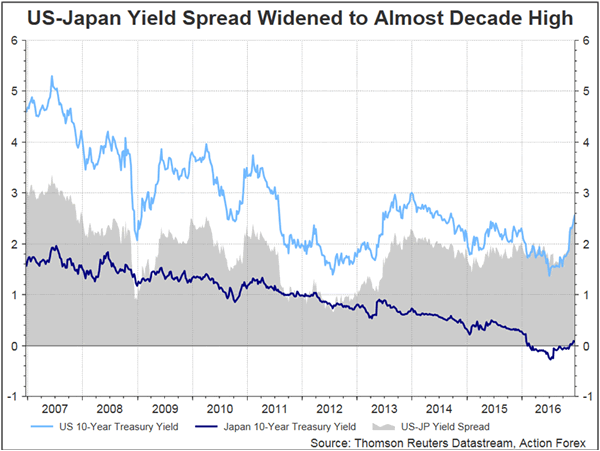 As mentioned in the accompanying statement, Japan's economy has 'continued its moderate recovery trend' with both exports and production 'picked up 'from 'more or less flat'. The reference that'although exports and production have been sluggish due mainly to the effects of the slowdown in emerging economies' was removed. Meanwhile, BOJ also removed the reference that 'relatively weak developments [in private consumption] have been seen in some indicators'. On the economic outlook, BOJ noted that 'Japan's economy is likely to turn to a moderate expansion' and removed the previous concern that 'although sluggishness is expected to remain in exports and production for some time'. On inflation, policymakers retained the judgment that 'it is expected to increase toward +2%' but removed the timeline, 'in the second half of the projection period'.
On the monetary policy outlook, BOJ reaffirmed that it would 'make policy adjustments as appropriate, taking account of developments in economic activity and prices as well as financial conditions, with a view to maintaining the momentum toward achieving the price stability target'.