As the world's largest reserve currency, movement of US dollar reflects its two roles. First, the strength of USD reflects the well being of the domestic economic developments. The greenback rises against other currencies if US' economy is expected to perform better than others. Second, as the world's biggest risk-free asset, demand for US Treasury bonds soared as the market turns risk-averse. This drives the greenback higher as the values of risky assets fall.
In the first 3 quarters of 2019, USD strengthened amidst concerns about global economic slowdown, uncertainty over US-China trade war and the Brexit drama. USD index rallied to a 2.5 year high in late September /October before correction. Price has continued to weaken since 4Q19 as US and China has reached the Phase I trade deal while the UK is doomed to leave the EU on January 31, 2020. Meanwhile, concerns over global slowdown have eased temporarily.
For the year ahead, we expect the safe-haven status of USD would be less prominent that the previous year. Concerning the growth outlook, we expect US growth to remain firm, despite slowdown. However, the greenback has become less attractive this year because of two reasons – diminishing growth advantage and narrowing yield differential over other currencies.
According to IMF's forecasts, US GDP growth will moderate to +2.1% y/y in 2020, from +2.4% last year. This is the lowest reading since 2016. Meanwhile, world GDP growth might improve to +3.4% y/y this year, from +3% in 2019. Economic growth in advanced economies might stabilize at +1.7% while that in emerging markets accelerate to +4.6% from +3.9%. The forecasts indicate that the advantage of US growth has diminished when compared with other economies.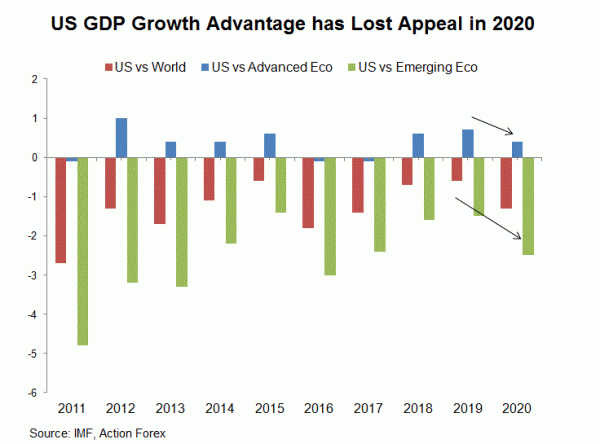 Although the December FOMC minutes signaled that the members are comfortable with the current level of interest rates, the market expects that there will be at least one more rate cut this year. Meanwhile, the three rounds of rate cuts in 2H19 have brought the interest rates to 1.5-1.75%, making US yields not more attractive than other currencies.