An increasingly provocative North Korea is testing the limit of US' patience. Following another test of ICBM missile last Thursday, US President Donald Trump has accelerated sanctions against the hermit Kingdom. He has also pledged to give China a difficult time on trade amidst the latter's lack of pressure against North Korea's nuclear developments. Although intensifying geopolitical tensions might increase volatility of the financial markets, we believe the chance of war remains remote as the provocations-sanctions-negotiations process is indeed a routine of the Korean Peninsula problem over the past decades.
In July, North Korea tested fires the intercontinental ballistic missile (ICBM) into the Sea of Japan. Some experts indicated that the missile, the technology of which is legitimately possessed by the US, France, China, the UK and Russia, could potentially reach Alaska.
The UN, the US and South Korea have imposed various over North Korea. The latest UN resolutions (Resolution 2270, passed in March 2016 and Resolution 2321, passed in November 2016) involved banning of raw material exports to the country. Back in the Obama era, the Congress passed the North Korea Sanctions and Policy Enhancement Act of 2016 aiming to stave the country financially and militarily. The Trump administration is planning to use trade restrictions and economic measures against China so as to pressure china to accelerate action against its nuclear neighbor.
US-China Trade Relations
The world's two biggest economies are the biggest trading partners of each other. Total trade between the two countries amounted to US$578.6B in 2016. The biggest complaint from the US is its persistent trade deficit against China. Last year, US-China trade deficit remained at an elevated US$ 347B, though the amount has been down much from its peak. The US labeled China a "currency manipulator" from 1992-1994 amidst dissatisfaction over its action to depreciate the renminbi to promote exports. Trump repeatedly claimed that he would name China a "currency manipulator" during his election campaign and continue to say so until this April, when he suggested that his back away was due to China's promise to help on the North Korean issue.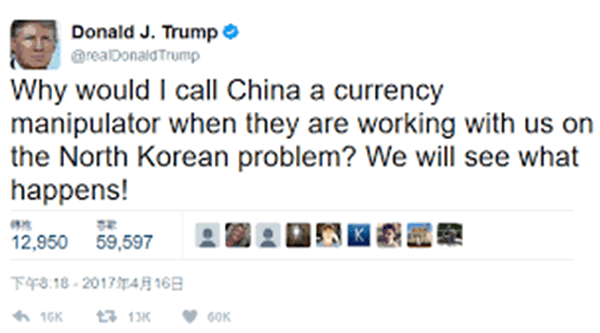 Currency Manipulator
Besides political reason, there is little ground for the US to label China as currency manipulator due to its own criteria. The US Treasury Department uses three criteria to judge whether a country is manipulating the currency: 1)a bilateral trade surplus of US$20B with the US; 2)current account surplus of more than 3% of GDP and 3) it buys foreign assets of 2% of output to weaken currency. Our analysis suggests that only the first criterion is met for the case of China as it is running a trade surplus of around US$ 300B against the US. Various estimates show that China's current account surplus has fallen below 3% of GDP at least since 2H15 and over 2015 and 2016, the People's Bank of China had sold US$ 80B of FX reserve to stabilize renminbi from massive selloff. Therefore, the second and third criteria are not met.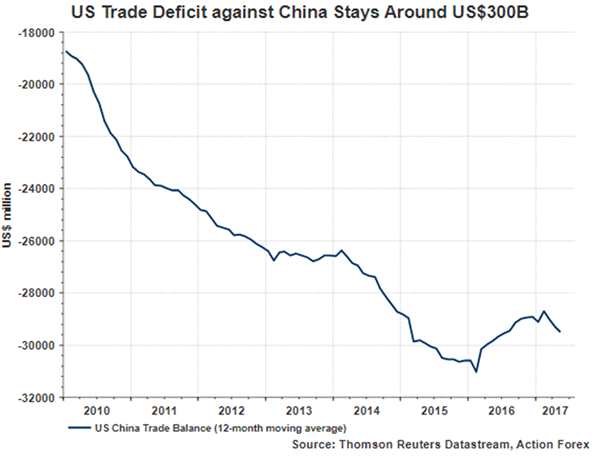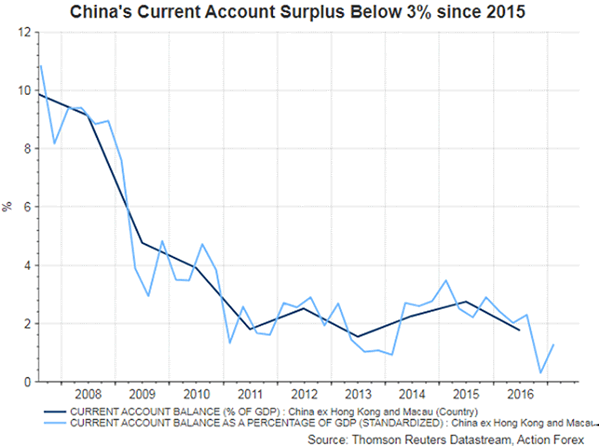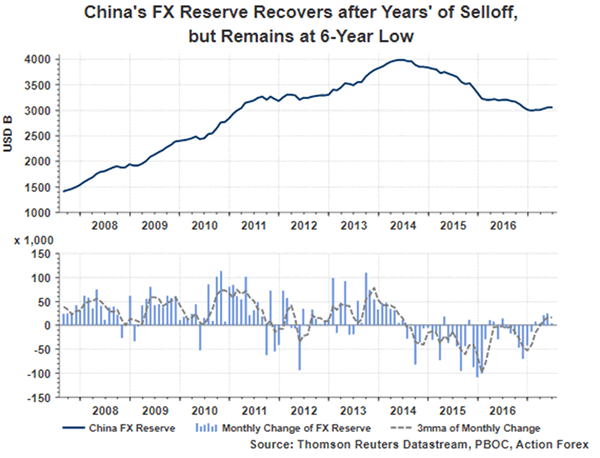 We believe Trump's complaint on currency and trade deficit have been a threat against China over the North Korean issue. also in April. Trump tweeted that he "explained to the President of China that a trade deal with the US will be far better for them if they solve the North Korean problem". On July 5, Trump complained that "trade between China and North Korea grew almost 40% in the first quarter" and then on July 30, he appeared frustrated, noting that "I am very disappointed in China. Our foolish past leaders have allowed them to make hundreds of billions of dollars a year in trade".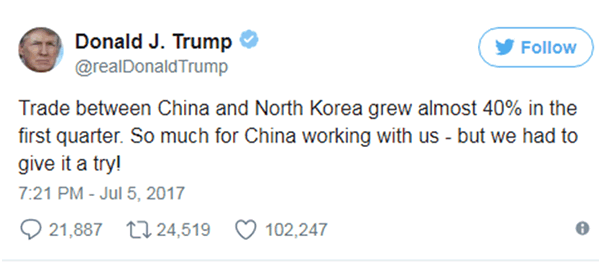 China-North Korea Relations
Indeed, China is the closest partner of North Korea, both geographically and economically. The two countries are only separated by the Yalu River, Paektu Mountain and the Tumen River, with Dandong, in the Liaoning Province of China, the largest city on the border. China is contributing over 80% of North Korea's international trade, exporting oil and refinery products, and fertilizer to the country and importing coal from it. Given its close proximity, China agrees on sanctions over North Korea, as long as they do not affect China's national interest. Military conflict and war are definitely not preferred. A likely failure of North Korea in case of war means inflow of tens of millions of refugees from the country to China. Moreover, a enlarged South Korea (North Korea collapses) after the war would strength US' strategic presence in Asia.
US-China-Korea Triangle
The Korean peninsula problem has long related to US' strategic interest in Asia. Trump's withdrawal from the Trans-Pacific Partnership has already dampened America's reputation and leadership amongst its Asian allies (South Korea, Japan, Taiwan, Philippines, etc.). How the White House handle North Korea would be critical to US' influence in the region. For now, we remain uncertain of the Trump's agenda, especially given his close relations with Russia. Yet, we believe any US trade sanctions against China would render to verbal trick given the close economic and political relations between the countries.