While the final result would be formally announced on October 7 (due to the complex arithmetic of the mixed-member proportion system), the available information confirmed that the centre-right National Party remains the biggest party but would again be shy of being a majority government. Worse still, it would also be challenging for Nationals to form a minority government with consent of smaller parities. While many believe that the most likely result would be a Nationals+ NZ First coalition, it is not yet a done deal as it is still possible for NZ First form a coalition government with centre-left Labors and left-wing Greens. With plenty of uncertainties remains and the populist NZ First likely be a kingmaker in this term, New Zealand dollar got hit, losing over -1% against US dollar and Australian dollar.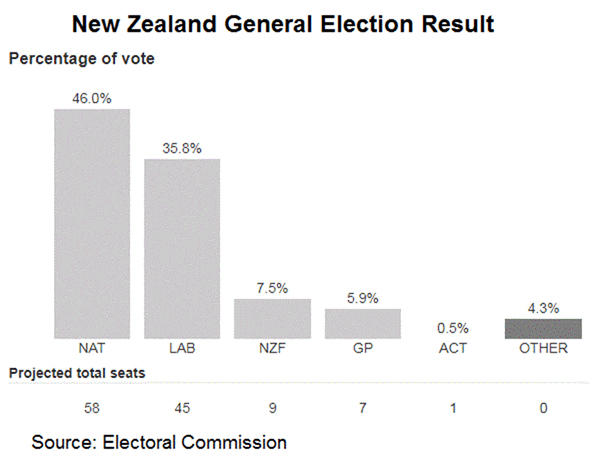 Election Results
Securing 46% of votes, the National Party is projected to have won 58 seats, marking two seats lower than the 2014-term and three seats short of majority. The Labor Party won 45 seats, surging from 32 in the last term. The third biggest party comes the right-wing, populist NZ First Party. Although the seats it won has dropped to 9, from 11 previously. Greens got 7 seats, just half of what it got in 2014. While ACT managed to keep its one seat, other small parties, including Maori and United Front, failed to return the parliament this time. The number of parties in the parliament falls to 5 from 7 previously.
Back in 2014, Nationals formed a minority government by entering confidence and supply agreements with the centrist United Future, the neoliberal ACT Party, and the indigenous rights-based Māori Party. This combination had existed since Nationals took office in 2008. A re-run of it would be difficult as Maori and United Front are kicked out of the parliament this time, while Labors, Greens and NZ First would prefer to be the oppositions, if not forming a government.
Most Likely Coalition
For now, it is widely anticipated that Nationals would form a coalition with NZ First. As we discussed last week, NZ First is closer to Nationals on social policies but closer to Labors on economic policies. NZ First's "New Zealand First" stance has led to its proposals to limit foreign investments, revise current FTA deals and sharply cut the numbers of immigrants to around 10K per year, etc. Meanwhile, NZ First proposes the most vigorous reform, amongst other parties, of the Reserve Bank Act. Of course, not all of its proposals would be accepted in a Nationals + NZ First coalition. Given the heightened uncertainty with NZ First on board and the NZD-negative nature of NZ First's electoral platform, kiwi's outlook to this combination is skewed to negative.
Uncertainties Remain
Yet, this combination is yet to be a done deal. NZ First had history of working with both Nationals and Labors. As such, a Labors+ Greens +NZ First coalition cannot be ruled out. We believe this trio poses more negatives to New Zealand dollar than the nationals + NZ First coalition. Both Labors and NZ First favor lowering the number of net immigration, although the target numbers of reduction diff. Cutting net immigration is prone to lower GDP growth in coming years. Meanwhile, all three parties propose to reform RBNZ and the proposed changes should likely delay the rate hike schedule. The actual impact on kiwi depends on the priority of the policy implantation, and to what extents these policies are to be implemented.