China recorded a trade surplus of US$ 28.8B in April, beating consensus of US$ 27.5B. In March, China reported a deficit of US$ 5B due to seasonal factor. Compared with the same period last year, trade surplus narrowed by -23.1%. The +12.9% y/y increase in exports was overshadowed by a +21.5% jump in imports. Specifically, its trade surplus with the US expanded to US$ 22.2B, up from US$15.4B a month ago. In the first four months of the year, China's trade surplus with the US reached US$ 80.4B. The data failed to do any help to soothe the recent trade tensions between the world's two biggest economies.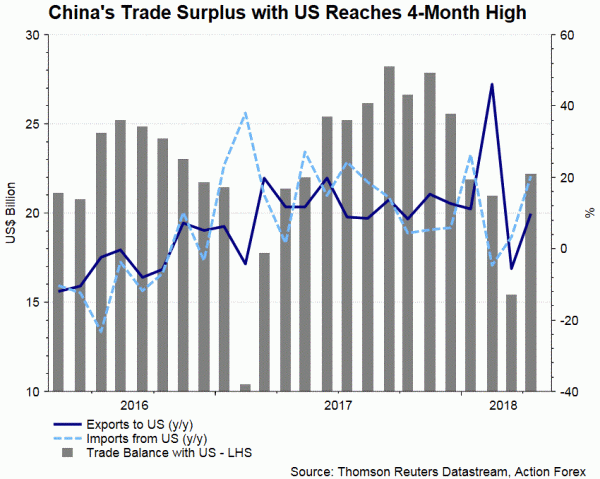 No Breakthrough in First Trade Talk
The US-China trade talk on May 3-4 ended a joint statement, let alone a deal. Media reported that the White House demands to reduce US trade deficit with China by US$ 200B by the end of 2020, from 2018 levels. Furthering the effort to reduce trade deficit, China's purchases of US goods should represent at least 75% of a commitment to a US$ 100B increase in purchases of US exports for the 12 months beginning June 1 2018, and at least 50% of China's commitment to an additional US$ 100B increase in purchases of US exports in the 12 months beginning June 1, 2019. The US has also lain down requests on the protection on the US tech industry and intellectual property, restrictions on Chinese investment in "sensitive US technology sectors or sectors critical to US national security", China's opening up of markets for US investment.
On China's side, it requests the US to remove the trade restrictions announced over the past two months. For instance, the US should stop imposing 25% additional tariffs on Chinese products, adjust the export ban on ZTE and lift bans on exports of integrated circuits to China. China also demands the US not to initiate any Section 301 investigation against China, which has been scheduled on May 15.
Trade War is Still Not Our Base Case
Little has been agreed upon after the meeting last week While this signals that the US may impose US$ 50B of tariffs on 1 300 Chinese imports when its public comment period on the proposed sanctions ends on May 22, we remain hopeful of an eventual deal would be reached. Liu He, the vice premier of the Chinese Communist Party (CCP) as well as the top economic official, will arrive Washington next week to continue the discussions with US president Donald Trump's economic team. We notice that the Chinese government has softened its tone over trade issues. The editorial (http://www.xinhuanet.com/mrdx/2018-05/06/c_137158886.htm) of Xinhua news, CCP's mouthpiece, over the weekend described the trade talk as frank, highly- effectively and constructive. It noted that the talk itself has set a positive beginning for avoiding further escalation of trade tensions. Meanwhile, a news report by Economic Information Daily (http://www.jjckb.cn/2018-05/07/c_137160241.htm) revealed that China's Commerce Department has begun studying the possibility of lowering tariffs of vehicles and some daily necessities.