Rates: Focus turns to supply and US price data
Supply operations and US price data take centre stage today and tomorrow. Are investors already willing to absorb US (today and tomorrow) and Italian (tomorrow) bonds or do they remain sidelined expecting the upleg in yields to continue? US PPI and CPI data are expected to remain above the Fed's 2% inflation target, warranting a continuation of the rate hike cycle.
Currencies: EUR/USD resists EM/Italian uncertainty, at least for now
EUR/USD set a minor short-term correction low yesterday as global risk-off and uncertainty on the Italian budget weighed. However, losses were reversed later. Markets look out whether US auctions will raise US rates further today, potentially causing new USD gains. Sterling rallies as investor see Brexit progress in the run-up to next week's EU summit.
The Sunrise Headlines
US equity markets were mixed yesterday, with most indices closing the trading day with (limited) losses. Nasdaq outperformed. Asian markets are mixed with Japan bouncing back after yesterday's losses and China underperforming.
Italy's budget joint committee has disapproved the government's budget proposal. It said the growth targets (1.5% in 2019) are too ambitious and optimistic. They can now ask the government to review the targets.
US President Trump will soon present a list of measures to tackle the federal government's big budget deficit, his chief economist said. The deficit expanded to an estimated $782bn, i.a. under influence of Trump's $1,5 trillion tax cut.
Hurricane Michael is set to enter Florida tonight. The category 4 storm is currently storming through the Gulf of Mexico, causing to shut more offshore oil platforms in the US. Around 40% of crude production in the area is already lost.
Officials from both the EU and the UK said progress have been made on overcoming two of the final obstacles, Irish border and the overall Brexit deal. In addition, up to 40 Labour MPs said to be prepared to back a Chequers-like deal.
US Treasury secretary, Steve Mnuchin, has warned China not to engage in competitive devaluations of the Chinese yuan to offer rebuttal in the trade war. The Treasury will soon release its regular report on currency issues.
Today's eco calendar contains US September's PPI's. The UK releases Industrial Production and GDP data today. BoE's Haldane and Fed's Evans are scheduled to speak. The US holds 3- and 10-yr Note auctions
Currencies: EUR/USD Resists EM/Italian Uncertainty, At Least For Now
EUR/USD resists global/Italian uncertainty, for now
Yesterday, uncertainty on EM and on Italy remained the main drivers for FX trading. Asian equities stayed under pressure. Ongoing political noise on the Italian budget weighed on European sentiment even as Fin Min Tria tried to de-dramatize the tensions with the EU. Global stress eased slightly in US dealings, but sentiment stayed fragile. President Trump reiterated the Fed was going too fast in raising rates. The direct impact of his comments on the dollar was modest. At that time, US yields were already off the cycle peak and the USD rally eased. EUR/USD dropped temporarily below the 1.1460 support intraday, but closed little changed at 1.1491. USD/JPY also drifted further south and finished at 112.96. Overnight, Asian equities are trading mixed to mariginally stronger. US Fin Min Mnuchin indicated that the US will take depreciation of the yuan into account in the US-China trade talks. The CNY, but also the likes of the INR and the IDR are holding near recent lows, but with no additional losses. The IMF warned on risks to global stability due to pressure on EM and a deterioration in trade relations. The fund also sees stretched asset valuations. Asian markets are in some kind of wait-and-see modus. EUR/USD hovers again in the 1.15 area. USD/JPY trades in the 113 area. Today, there are mostly second tier data in EMU and the US. US PPI is interesting, but the focus is on tomorrow's CPI's. We also keep a close eye at the auctions of 3 & 10Y US Treasuries. A mediocre result might reactivate the mechanisms of higher US yields, a strong dollar and global market volatility. The 'Italian issue' also isn't solved yet. Recently, we had a cautious yet positive USD bias. Losses in EUR/USD were modest given ongoing tensions on Italy. However, there was no obvious trigger for a EUR/USD rebound. We keep our cautious euro-negative/USD bias. EUR/USD might drift lower in the 1.1550/1.13 band. The USD/JPY uptrend looks blocked by the risk-off, despite higher core/US yields.
Yesterday, sterling rebounded further. Markets saw growing signs that at least a partial/temporary Brexit agreement could be reached ahead of next week's EU summit. EUR/GBP declined further in the 0.87 big figure and finished the day at 0.8742. Today, UK trade balance and production data are expected soft, but the focus remains on Brexit. Hope on Brexit progress supports a positive GBP-momentum. In a day-to-day perspective, there is no need to row against this tide. Next question remains whether May can secure approval in the UK parliament.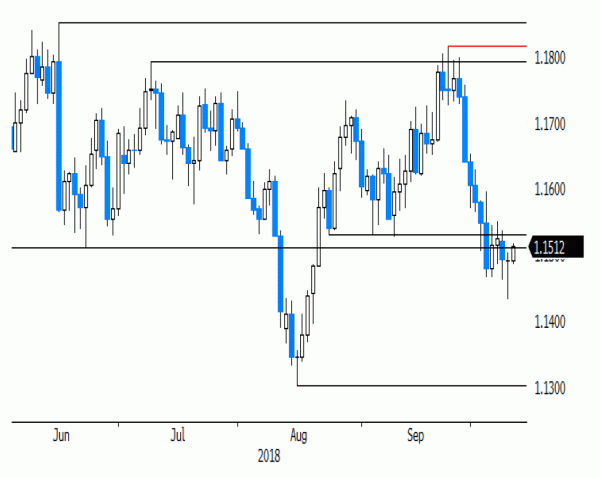 EUR/USD: euro limits losses despite ongoing tensions on EM and on Italy