Rates: Bad start for stock markets
Souring risk sentiment provided a safe haven bid into core bonds yesterday. US stock markets dived more than 2% lower with tech shares underperforming. Tensions seem to ease overnight, but we don't take it for granted. Italy faces its budget review deadline with markets positioned for an extension of the quarrel with the EC.
Currencies: Dollar remains in the driver's seat
The dollar held sway yesterday against a risk-off climate, setting new 2018 lows. A fragile risk environment continues to steer currency markets today, keeping the odds in favor of the dollar. Sterling is set for a wobbly ride as brexit negotiations enter, according to UK PM May, "the endgame".
The Sunrise Headlines
US stock markets closed 2% to 2.8% lower with Nasdaq underperforming on iPhone demand worries. Asian bourses limit losses apart from Japan (-2%) with China even outperforming (+1%) on trade optimism.
AP declared Democrat Sinema winner in the Arizona Senate contest. Current mid-term election results shows Republicans can increase their Senate majority by max. 2 seats, while Democrats will control the House by 9 to 19 seats.
Chinese VP Liu is reported to visit the US to pave the way for a Xi – Trump summit by the end of November. The WSJ said that Liu and Treasury Secretary Mnuchin resumed talks. US VP Pence added that progress can be made.
UK PM May said yesterday evening that Brexit negotiations were "in the endgame", while also warning that the issues remaining to be addressed were "extremely difficult". Negotiators worked through the night.
SF Fed governor Mary Daly says that both Fed's goals are essentially met, meriting a further normalization of monetary policy. She doesn't want to pledge her December vote yet though and wants to wait how the economy unfolds.
The Japanese central bank has become the second central bank after the Swiss National Bank to own more assets than the economy (GDP) it wants to stimulate via easy monetary policy.
Today's eco calendar contains the UK labour market report, German ZEW investor sentiment and US NFIB small business optimism. Italy and Germany tap the bond market. An avalanche of ECB and Fed members speaks
Currencies: Dollar Remains In The Driver's Seat
King dollar remains in the driver's seat
The dollar held sway yesterday, even as there were no obvious reasons for the greenback's outperformance. Last week's rather hawkish Fed despite recent volatility remains a USD positive. The fragile risk environment (tech led equity sell off in US bourses, trade war, Italy …) further supported the dollar. Some remaining dollar bears threw in the towel in yesterday's low(er) volume trading session, pushing EUR/USD below the bottom of the 1.13/1850 consolidation pattern during early trading hours. EUR/USD selling pressure eased somewhat afterwards, yet only temporarily. SF Fed Daly landed a final (minor) blow to EUR/USD saying it is only appropriate to get rates back to the neutral level. The currency pair eventually closed at 1.1218, a new 2018 low. USD/JPY couldn't maintain gains up to 114.2 as the risk-off supported the yen over the dollar, closing at 113.84. The trade weighted dollar (DXY) settled above the 97-handle.
Sentiment eased overnight following reports that China's Vice Premier Liu He will visit the US. He is to pave the way for a meeting between Trump and his Chinese counterpart Xi Jinping at the G20 later this month. Most Asian equity markets rebounded, reversing earlier losses to as much as 1.4% (China). Japan (-2%) fails to join party, however. The news also supported the Chinese Yuan and other trade sensitive currencies (Aussie and Kiwi dollar). US's small business optimism is expected to remain at an elevated 108.0 today. The German ZEW-indicator probably slips to -26, but a more outspoken fall is possible. Italy probably captures most attention as the deadline (tonight) for an adjusted budget proposal draws near. This might have implications for risk sentiment, which probably again acts as most important market driver today. The climate remains fragile, suggesting further support for the dollar. A continuation of yesterday's trend is very well possible. Next support is seen in the 1.1187/1.1119 area.
Sterling gains following Barnier's upbeat comments, proved premature yesterday. The pound eventually did gain some ground after PM May said negotiations are entering the final stage, while warning for the "immense difficulties" that remain to be solved. EUR/GBP closed at 0.873. Today's UK labour report is expected solid but might be in the shadows of the brexit negotiations. May's cabinet meets this morning while both the UK and the EU see Wednesday as the last day to secure a deal. Some more sterling volatility might be on the cards today.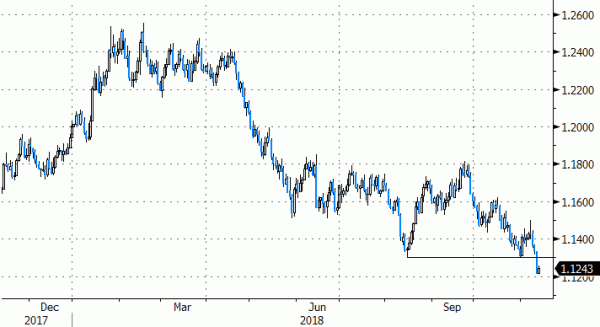 EUR/USD sets new 2018 low but and is not out of the woods yet