The loonie has lost more than 1.0% of its value since last week, however, the currency is awaiting this week's Bank of Canada (BoC) interest rate decision, which is scheduled to be announced on Wednesday at 1500 GMT. While interest rates are not expected to change, policymakers may adopt a more dovish tone amid heightened fears of a slowing global economy.
The BoC is predicted to pursue a 'wait-and-see' stance, as the markets believe that no rate hikes are taking place at this meeting. When they last met, policymakers left the way open for rate increases, however, economic data released since then has pointed to a loss in Canada's growth momentum. Recent economic data suggested that a growth slowdown is in place. GDP growth eased to an annualized pace of 0.4% in fourth quarter of 2018, from about 2.0% previously. While household consumption contributed less to growth in the last quarter of 2018, government spending and business investment even contributed negative growth. These were partly offset by improvement in trade and inventories.
In a speech two weeks ago, Governor Poloz said that the timing of future rate increases is 'highly uncertain', which, combined with the aforementioned data may prompt policymakers to strike a more cautious stance compared to the previous time, even if they stick to their guns that further rate increases are needed in the foreseeable future.
Turning the attention to employment growth which is coming out on Friday, it was the biggest factor lifting the GDP figure. The job market in January remained resilient although the unemployment rate rebounded slightly to 5.8 %. The number of jobs increase was still remarkable, at +66.8K. It is worth mentioning that the headline CPI rate has been weakening, falling to 1.4% in January, the lowest level since October 2017, after peaking in mid-2018 at 3.0%.
Acknowledging such developments, the BoC revised lowest its forecasts at the January meeting and forecast inflation to 'edge further down and be below 2% through much of 2019 and depreciation in Canadian dollar would apply some upward pressure on inflation, causing it to return to around the 2% by late 2019'.
Should policymakers use a more dovish tone, signaling a potential delay in lifting rates, USDCAD may head even higher towards immediate resistance of 1.3370. Above that key resistance the focus will shift to the 19-month high of 1.3663.
On the other hand, if the bank reiterates that it would need to push up interest rates into the 2.5-3.5% neutral range to be consistent with its inflation goals, appearing less concerned about future economic developments, the pair may retest the 23.6% Fibonacci retracement level of the upleg from 1.2060 to 1.3663 near 1.3285. If that fails to hold, support could run towards 1.3110 – 1.3070 support area, where bears rested in February.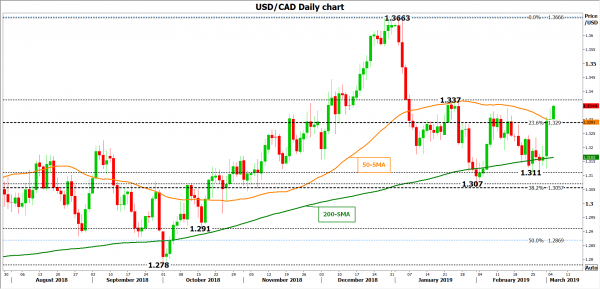 To sum up, although rising oil prices in this year may have been supporting the loonie, however, a dovish BoC could keep the currency's gains limited.