Rates: Risk aversion and Dovish Powell lift US Treasuries
Preparations ahead of tomorrow's high level US-Sino trade talks in Washington don't run smoothly. The knives are out while negotiations haven't even started. Stock markets lost up to 1.5%, boosting safe haven bids in US Treasuries. Fed Chair Powell pre-announced a resumption to balance sheet growth via T-bill purchases while hinting at an October rate cut.
Currencies: EUR/USD meets tough resistance at 1.10 area
EUR/USD again came close to the 1.10 barrier but a break again failed. A global risk-off and growing uncertainty on Brexit undermined the EUR/USD upside momentum. Today, the eco calendar is thin. The minutes of the FOMC meeting might illustrate the Fed's willingness to ease policy further, but it might not be enough to trigger substantial USD losses yet
The Sunrise Headlines
WS closed in red (Nasdaq underperformed, -1.67%) as global sentiment deteriorated amid escalated US-China trade tensions signalling a prolonged standoff. Asian markets are trading mixed, with China outperforming.
The White House declared that President Trump and his administration would not cooperate with the impeachment probe, calling the proceedings unconstitutional and invalid.
Fed's Powell and Evans flagged openness to further rate cuts. Powell announced the Fed will resume the purchase short-term Treasuries to avoid money market strains, but stressed it should not be considered QE.
Just days ahead of trade talks, US-China trade tensions ramp up after the US imposed visa restrictions on Chinese officials over human right violations of Muslim minorities.
Brexit talks have turned into an angry stalemate as UK and EU leaders engage in a blame game. UK's Boris Johnson and Irish Leo Varadkar are set to meet this week hoping to reach a compromise.
Turkey announced it will 'shortly' cross the Syrian border, aiming to push back Kurdish militants days after US President Trump announced it consents to a military incursion.
In today's economic calendar the release of the Fed's minutes take centre stage as markets will look for further insights into the depth of division among Fed policymakers. The US and Portugal tap the bond market
Currencies: EUR/USD Meets Tough Resistance At 1.10 Area
EUR/USD running into tough resistance
EUR/USD initially ignored the risk-off due to rising US-China trade tensions and multiple negative headlines on Brexit. The data were second tier but in theory EUR/USD supportive. German production was better than expected while US PPI unexpectedly declined. EUR/USD came again within reach of the 1.10 barrier, but the dollar fought back during US trading hours. Fed's Powell kept the door open for additional, pre-emptive easing, but is comments didn't really hurt the dollar. EUR/USD closed the session slightly lower at 1.0957 (from 1.0971). USD/JPY dropped temporarily below 107 but closed at 107.09.
Overnight, sentiment in Asia remains risk-off as (political) noise in the run-up to the US-China trade talks sparked investor caution, but losses on Asian equity markets are more modest compared the WS yesterday. The yuan weakened (USD/CNY 7.1440). USD/JPY (107.15 area) trades quite resilient given the riskoff. EUR/USD stabilizes in the 1.0960 area. In Australia, consumer confidence dropped quite sharply, but with little negative fall-out on the Aussie dollar (AUD/USD 0.6740).
Today, the calendar is thin. We keep an eye at the minutes of the FOMC meeting to assess the internal debate on further easing. Headlines might be slightly USD negative. Brexit and the (political) noise around the US-China trade talks are the standard wildcards.
Last week, the dollar declined off recent tops after poor US ISM's and a loss of interest rate support. Still, USD losses remain modest even as markets anticipate further Fed easing this and next year. For now, the poor EMU eco hamper any sustained euro gains. EUR/USD is trading off recent low (1.0879) but is holding below the trendline (today near 1.1010). More soft US data and/or more outspoken 'engagement' of the Fed is probably needed for sustained EUR/USD gains. A constructive outcome of the trade talks or on Brexit might be a euro positive, too. However, for now it is apparently a bit premature to play this card.
Both parties in the UK-Brexit negotiations accused each other of a lack of political will to look for a compromise. So tensions are building in the run-up to next week's EU summit. The mutual blame game continues to weigh on sterling, too. EUR/GBP temporarily tested the 0.90 barrier yesterday. Both parties probably continue negotiating behind closed doors, but we don't expect high profile news before the EU summit. So, sterling caution will probably persist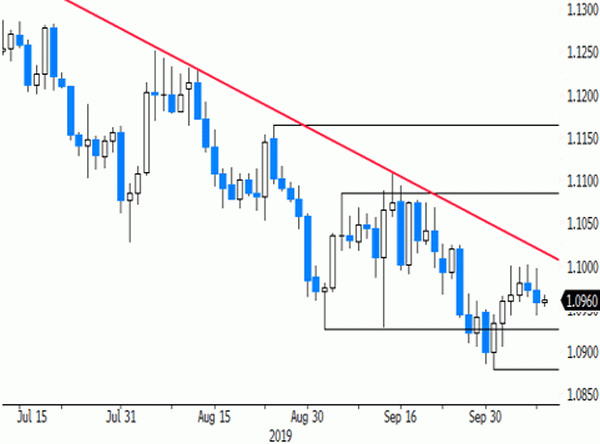 EUR/USD: incoming trendline proves to be tough resistance