Fading virus fears boost equities, but New Hampshire primary today poses risks
Euro pummeled as markets price out prospect of a big German spending package
Fed chief Powell testifies, ECB's Lagarde and BoE's Carney speak
RBNZ rate decision coming up – a more dovish tone seems likely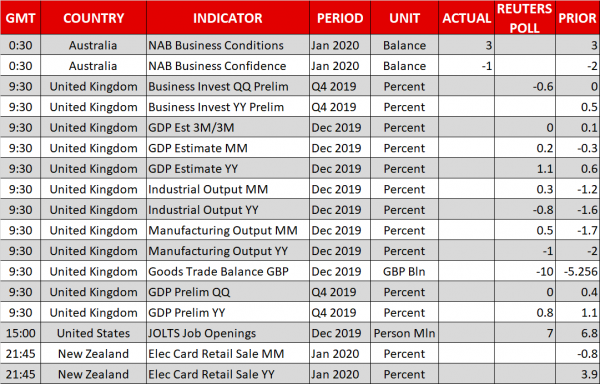 Stocks climb as virus fears fade, but how long until they 'feel the Bern'?
Concerns around the economic fallout of the coronavirus seem to be fading off the market's radar, as the rate of increase of new infections in China is slowing down with each passing day and almost all casualties so far have been in the Hubei province. It would appear the draconian quarantine measures taken by the Chinese authorities are starting to pay dividends, with investors pricing in a rosy scenario where any supply chain disruptions don't last long.
In the markets, risk appetite returned with a vengeance, with the S&P 500 (+0.73%) and Nasdaq 100 (+1.23%) both surging to new all-time records and futures pointing to an even higher open on Tuesday. It was a similar story in the FX space, where the heavily sold Australian dollar managed to recover some ground, while the defensive Japanese yen lost some of its shine as investors trimmed their haven exposure.
The natural question now is whether this optimism is justified, or whether the market is running ahead of itself. In that sense, with Chinese factories and businesses slowly resuming work this week, there's a clear risk of a re-acceleration in the rate of infections, which could inject another dose of uncertainty into financial markets.
An even bigger risk though, emanates from US politics. The Democratic primary contest that will decide who will square off against President Trump at the November presidential election continues today, with the state of New Hampshire (NH) going to the polls. The frontrunner in NH is Senator Bernie Sanders – who advocates for higher business taxes to finance welfare programs – so if he wins that state as easily as opinion polls suggest, that could throw a monkey wrench into the recent equity rally.
Investors have overlooked this risk so far, perhaps because many still don't believe he can capture the Democratic nomination or think that Trump would annihilate him in a general election. Ergo, a strong showing in New Hampshire could come as a reality check for complacent stock markets with stretched valuations.
Euro crumbles under the weight of German politics
The prospect of a serious German fiscal package to boost the growth-starved euro area became even less likely yesterday, after Annegret Kramp-Karrenbauer – who was widely expected to succeed Chancellor Merkel – resigned as leader of the CDU party.
The move injected a new element of uncertainty in European politics, as the ruling coalition in Germany became even less stable – posing the risk of snap elections – and some of her likely successors at the helm of the CDU are fiscal conservatives.
The euro fell across the board, as the news derailed the scenario of a serious spending boost in the Eurozone, solidifying the bloc's position as a low-growth region and the euro's role as a funding currency. The outlook for the single currency remains dark, and from a technical perspective too, there's virtually nothing left to stop euro/dollar from testing its 2019 lows soon.
RBNZ meets, dovish narrative likely in store
During the early Asian session Wednesday, the Reserve Bank of New Zealand (RBNZ) is widely expected to keep rates unchanged, but policymakers could strike a more concerned tone. The virus outbreak has giant implications for New Zealand, as it will hit the economies of its biggest trading partners, commodity prices, and its tourism industry.
As such, policymakers are likely to put a rate cut firmly on the table – depending on the severity of the virus impact.
Finally, we will hear from three key central bankers today. ECB President Lagarde will deliver remarks at 14:00 GMT, Fed Chairman Powell will testify before the US House at 15:00 GMT, and Bank of England Governor Carney will speak at 15:35 GMT.