Rates: German Constitutional Court creates uncertainty
Peripheral spreads are at risk of additional widening due to the German Constitutional Court's ruling on the ECB's PSPP-programme. German Bunds could underperform US Treasuries today ahead of the first syndicated German bond sale since 2015 (unusual 15y tenor). April US ADP employment is forecast to show a horrible picture (21000k job losses)
Currencies: EUR/USD again in the defensive. EUR/JPY at 3 year low
Last week's cautiously positive euro bias was completely eradicated yesterday as the German Constitutional Court's ruling on PSPP questioned the ECB's firepower. EUR/USD tumbled further below 1.09. At the same time, the yen continues to slightly outperform the dollar. EUR/JPY is testing the lowest level in three year, potentially weighing on EUR/USD too
The Sunrise Headlines
WS rose yesterday though cut gains in half after sobering comments from Fed officials. The S&P (+0.9%) outperformed. Asian markets trades mixed with Korea outperforming (+2%). China erased early losses during its first session in a week.
Fed vice chair Clarida struck a cautious tone, saying a recovery could start in the second half of this year but more monetary and fiscal support may be needed. Fed's Bullard warned for unemployment to rise well above 20%.
New Zealand employment rose a solid 0.7% q/q in the first quarter of this year. The participation rate increased to 70.4% while unemployment ticked higher to 4.2%, suggesting the worst of the coronavirus impact has yet to show.
Spanish PM Sanchez likely secured the votes needed for another extension of the state of emergency after striking a deal with Ciudadanos. The largest opposition party, PP, said to vote against, causing doubt over the vote outcome.
The WH is considering to disband the coronavirus task force by late May. VP Pence said the group accomplished its goal of flattening the curve, adding that not every community is out of the woods yet but have all the tools they need.
In a first response to the German court ruling yesterday, the ECB reiterated it is fully committed to its goal of price stability in all EMU jurisdictions, adding that the EU court previously said the ECB is acting within its mandate.
Today's economic calendar contains the US ADP employment report which is expected to show devastation. Retail sales and final PMIs are due in the EMU. Germany will tap an existing 5y bond and likely launch a new 15y benchmark
Currencies: EUR/USD Again In The Defensive. EUR/JPY At 3 Year Low
EUR/JPY at lowest level in 3 year
EUR/USD already returned part of last week's gain on Monday and any positive bias completely evaporated yesterday. Germany's highest court raised objectives against the ECB APP program, asking clarification and justification in three months. The ruling might complicate the ECB's crisis response and hammered the euro. EUR/USD tumbled from the 1.09+ area to the 1.0830 area and then settled in a sideways range, even as equity sentiment stayed rather constructive. In line with recent price moves, the yen outperformed the dollar, as tensions on the US-China (political and trade) relationship continue to linger. USD/JPY closed at 106.57 (from 106.74). EUR/JPY neared the lows levels in 3 year.
This morning, Chinese markets reopen, Japan is still closed. Most regional indices are in positive territory. The yuan (USD/CNY 7.09) weakened compared to last week. US president Trump holding China accountable for the coronavirus is a source of uncertainty. Even so, the loss of the yuan was smaller that what the off-shore CNH moves indicated earlier this week. The (gradual, but sustained) rise of the yen continues. EUR/USD is holding near yesterday's lows (1.0835 area).
Today, the final EMU services PMI's and the US ADP labour report will be published. US private employment is expected to decline by about 21 mln! Of late, global markets focused on the reopening of the economy rather than on the severe disruptions caused by corona. If this positive bias were to ease, the yen and the dollar might again outperform. The German court ruling and the euro price reaction show that there is no big case for a EUR/USD rebound soon. The protracted decline of EUR/JPY doesn't help. Yesterday's price action again pushed EUR/USD lower in the 1.0727/1.1018 sideways range. The risk for a new downside test is again increasing.
EUR/GBP price action yesterday mainly followed the EUR/USD decline after the German court ruling in the ECB's APP. EUR/GBP returned to the low 0.87 area, but not break occurred. Today, the UK construction PMI will probably show the industry came close to a stand-still. Further euro losses might continue weigh on EUR/GBP. Still EUR/GBP 0.8685/0.87 remains tough support even if sentiment would become less risk on globally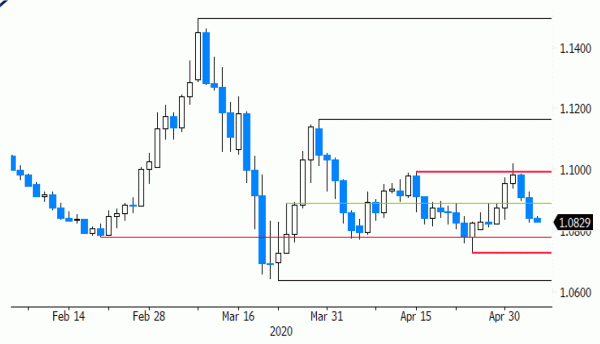 German court ruling sends EUR/USD back lower in established range