Following the rise in the Eurozone's economic sentiment gauge published yesterday, which peaked at the highest level in August since the global financial crisis, inflation for the same month based on flash estimates showed signs of acceleration, while unemployment remained steady. Although the data increase the odds of policy tightening by the ECB at the policy meeting next week, the euro reacted negatively.
According to preliminary figures released by Eurostat on Thursday, Eurozone headline inflation rose to 1.5% y/y in August, after remaining flat at 1.3% the previous two months. This surprised analysts who expected flash HCPI to increase slightly to 1.4% y/y.
Eurostat anticipates that energy would be the main driver of inflation as energy prices are expected to increase by 4.0% in August, almost twice July's level of 2.2%. The remaining major components including services, food, and non-industrial goods are estimated to have held steady at 1.6%, 1.4%, and 0.5% respectively.
Core HCPI, which excludes food and energy items, matched forecasts, standing flat at 1.3% y/y.
In another report, Eurostat posted readings on Eurozone unemployment rate for the month of August. The numbers indicated that unemployment rate was in line with expectations at July's reading of 9.1%, which is the lowest rate reported since June 2009 when it was at 9.3%.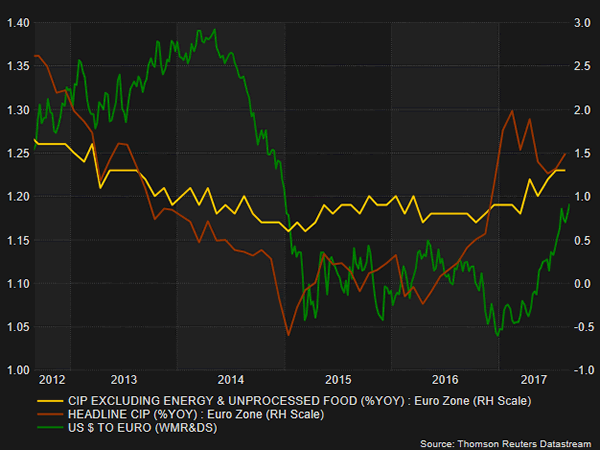 Among the three largest Eurozone economies, Germany experienced the highest increase in inflation on a yearly basis. Flash German HICP, which was released on Wednesday, jumped by 0.3 percentage points to 1.8%, surpassing the 1.7% forecasted. France and Italy, who published their readings today, saw their yearly flash index rising by 0.2 percentage points to 1.0% and 1.4%, respectively.
Month-on-month, Italy gained the most in terms of prices, with HCPI increasing by 2 percentage points to 0.1% from a negative 1.9% in July. French monthly HICP climbed by 1 percentage points to 0.6% while German HICP pulled back by 0.2 percentage points to 0.2% but was above the 0.1% expected.
Regarding unemployment rates in the above economies, the unemployment rate in Germany was unchanged at 5.7% while in Italy the rate inched up from 11.2%( upwardly revised from 11.1%) to 11.3%. French unemployment rate, which was reported earlier this month, slid to 9.5% q/q in the second quarter.
While increasing flash inflation should be good news for ECB policymakers, who are waiting for inflation to start approaching the 2% target before they decide to hike rates, concerns over a strengthening euro are mounting. This raises questions about the ECB's exit strategy from its asset purchases ahead of next Thursday's policy meeting in Frankfurt. The ECB is expected to announce its decision on tapering in the autumn before the current program expires at the end of 2017. Sources with a knowledge on the topic have said that asset purchases will be reduced only gradually.
As fears over a strengthening euro weighed on the markets, the euro failed to find support on the stronger-than-expected inflation readings. Euro/dollar dropped by 0.62% to a one-week low of 1.1822. Euro/pound reversed most of its earlier gains, falling by 0.34% to 0.9196, while euro/yen retreated by 0.52%, sinking to a session low of 130.78 before it inches up to 130.86.