In line with our expectation, the BoE today hiked policy rates by 25bp, bringing the Bank Rate to 4.25%.
With both growth and domestic inflation having surprised to the upside and given BoE's message today we pencil in an additional 25bp hike in May 2023.
We thus expect the Bank Rate to peak at 4.50%. We still do not envision rate cuts from BoE before 2024.
In line with our expectation, the Bank of England (BoE) hiked the Bank (policy) Rate by 25bp to 4.25% with 7 members voting for a 25bp hike and two members voting for keeping the Bank Rate unchanged.
Overall, the forward guidance was limited with the BoE leaving the door open for another hike at the May meeting if persistent inflation pressures persist. With February headline inflation surprising sharply to the upside and the near-term path of GDP "likely to be somewhat stronger than previously expected" the majority of Monetary Policy Committee (MPC) voted for an increase of 25bp. Most notably, the most hawkish member Cathrine Mann voted for a 25bp instead of 50bp despite hawkish commentary between meetings. The key concern for the BoE remains developments in wage data as well as service inflation. With both growth and inflation having surprised to the upside, we do not believe that data will have weakened enough for the BoE to pause its hiking cycle at the May meeting. We thus revise our forecast to include a final 25bp hike in May, marking a peak in the Bank Rate at 4.50%.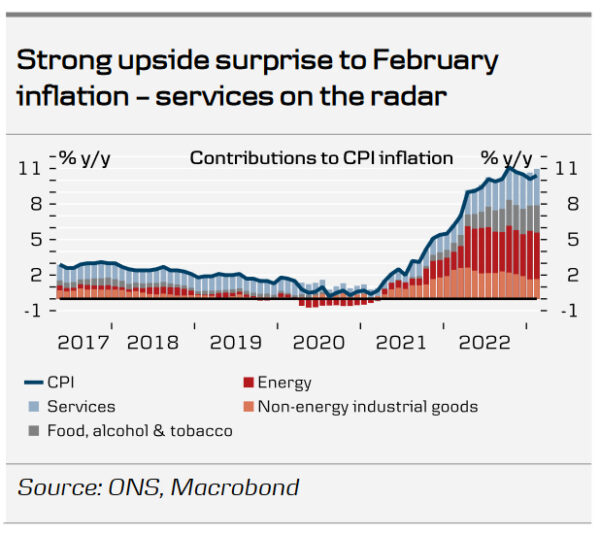 We were left with little guidance in terms of potential cuts later in the year. The two MPC members in favour of keeping the Bank Rate unchanged suggested that policy was becoming "increasingly restrictive, this would bring forward the point at which recent rate increases would need to be reversed". We do not expect any cuts to materialize before 2024.
Rates. As the 25bp hike was fully priced in by markets, the market reaction upon announcement was limited. 10-30Y was close to unchanged while 2Y rates were a few basis points lower. The market pricing of the peak policy rate was pushed slightly lower to 4.5% in August (from 4.6%).
FX. EUR/GBP initially moved lower upon announcement but quickly retraced as little guidance was given in the statement. Further out, EUR/GBP is, in our view, stuck between opposing forces. On the one hand, we expect relative rates to act as a clear tailwind, while global growth slowdown and the relative appeal of UK assets acts as a headwind. We thus expect the cross to remain range bound around 0.87-0.88.
Our call. We revise our call to expect the BoE to deliver a final 25bp hike in May. Our expectations are in line with current market pricing (currently 30bp priced until August 2023) as we expect the rest of the BoE committee to increasingly turn less hawkish amid a weakening growth backdrop and easing labour market conditions. Markets are pricing in 30bp of cuts during H2.  We still believe that the first rate cuts will not be delivered before the beginning of 2024.