The Reserve Bank of Zealand will tomorrow complete its meeting on monetary policy with the interest rate decision and monetary policy statement due at 2000 GMT.
New Zealand's central bank is not expected to deliver a significant shift in monetary policy, maintaining its official cash rate at the record low of 1.75%. Tomorrow's meeting will also be the first with new Acting Governor Grant Spencer, who was assigned the role temporarily as the timing of the appointment coincided with the general elections held in September.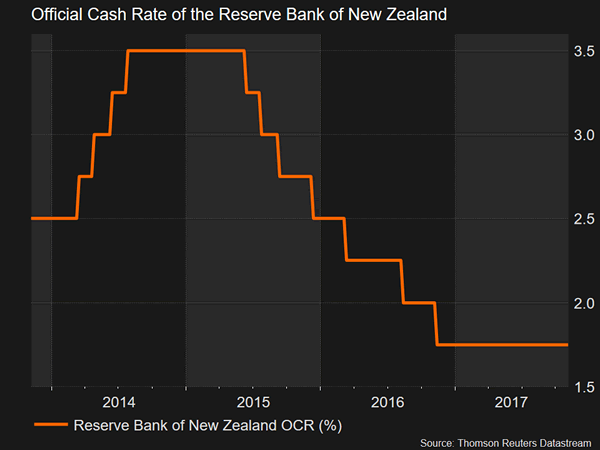 There are reports that the Labour-led government will review the Reserve Bank Act with the intent of proceeding with a dual central bank mandate and decision-making by committee. Should the RBNZ be given a dual mandate, then, similar to the US's Federal Reserve, besides price stability, full-employment will be one of the bank's objectives as well.
The new government today expressed that RBNZ's independence will be preserved and that the existing 1-3% inflation target would be maintained. This eased some market concerns earlier in the day and allowed the New Zealand dollar to advance relative to its US counterpart. However, Finance Minister Grant Robertson added that the rate hikes delivered in 2014 might have not taken place under a dual central bank mandate. Thus, should a dual mandate materialize, it might be perceived as of dovish nature by markets, pushing kiwi/dollar lower with potential support for the pair coming at around 0.6816, this being the one-and-a-half-year low that was recorded in late October.
It should also be mentioned that New Zealand's fundamentals are looking strong. Inflation came in at 1.9% y/y during the third quarter (exceeding expectations of 1.8% as well the previous quarter's 1.7%), while last week's better-than-anticipated jobs data pointed to a robust labor market. If the central bank acknowledges a strong macroeconomic environment in its statement then the kiwi might head higher relative to the greenback. In that case, the range around the 23.6% Fibonacci retracement level of the July 27 to October 27 downleg at 0.6987 might act as a barrier to the upside for kiwi/dollar.