Here are the latest developments in global markets:
FOREX: The strong correction in stock markets which emerged amid hopes that the Fed will raise interest rates faster than expected did not provide much support to the dollar, with dollar/yen rising slightly up to 109.22 (+0.11%) as demand for the safe-haven yen also increased. The dollar index also edged up to 89.78 (+0.20%). Euro/dollar gave up earlier gains, retreating to 1.2356 (-0.06%), while pound/dollar fell to 1.3900 (-0.40%) after an attempt to break above 1.4000 as Brexit uncertainties continued to loom in the background. Aussie/dollar was on the backfoot at 0.7852 (-0.30%) after the RBA kept rates unchanged early in the Asian session and held a neutral tone over monetary policy. Kiwi/dollar broke slightly below 0.7300 but remained up on the day (+0.28%). Dollar/loonie was trading flat near three-week highs at 1.2545 reached today.
STOCKS: European stocks were in a strong sell-off on Tuesday following their US and Asian counterparts as rising yields attracted markets' attention. The benchmark European STOXX 600 tumbled by 2.0% near six-month lows at 1100 GMT, with every single sector falling by an equivalent amount. The blue-chip Euro STOXX 50 was down by 1.75%. The German DAX 30 dipped by 1.80%, the French CAC 40 dived by 1.85%, the Spanish IBEX 35 slipped by 2.10% and the British FTSE 100 declined by 1.67%. US stock futures were in the sea of red.
COMMODITIES: Oil prices continued to fall for the third day affected by the rout in financial markets. WTI crude retreated by 1.48% to $63.20/barrel and Brent moved lower by 1.47%% to $66.62/barrel. In precious metals, gold was gaining ground for the second day, being 0.11% up on the day at $1340.60/ounce.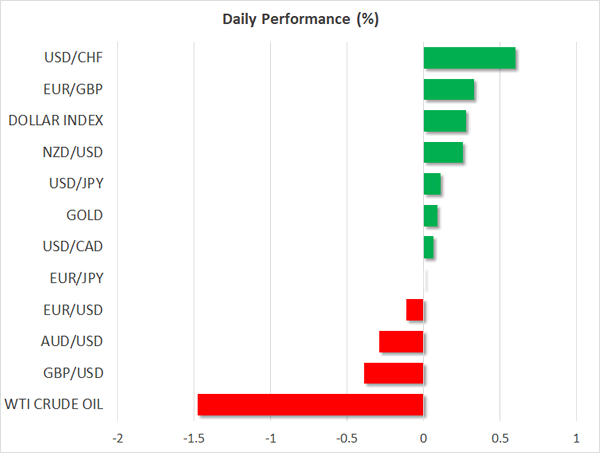 Day ahead: Global dairy prices & employment data to move kiwi
Looking ahead to the rest of the day, the US, Canada, and New Zealand are scheduled to report on economic figures.
Global dairy prices will be awaited at 1400 GMT (tentative time) to bring some volatility to the kiwi after the measure surged by 4.9% at the previous global trade auction. The currency will also attract some attention at 2145 GMT when employment data out of New Zealand will come into light. According to forecasts, the number of employees is said to increase at a slower pace of 0.2% in the fourth quarter of 2017 compared to 2.2% expansion seen in the previous quarter, while the unemployment rate is projected to remain unchanged at 4.6%, the lowest rate recorded since the fourth quarter of 2008. Regarding labor costs, these are anticipated to keep rising by 1.9% y/y as in the third quarter but slow down to 0.5% q/q.
Stats on trade balance and December's JOLTs job openings will be out of the US at 1330 GMT and 1500 GMT respectively, whilst the American Petroleum Institute will give an update on the US crude oil stocks for the week ending February 2 at 2135 GMT.
In Canada, trade data for the month of December will be in focus at 1330 GMT before January's Ivey PMIs come into view at 1500 GMT.
Turning to today's public appearances, the St. Louis Fed President James Bullard will be giving a presentation on the US economy and monetary policy before the 29th Annual Gatton College of Business and Economics Economic Outlook Conference at 1350 GMT.
Stock markets will see further earnings releases today.