GBP/USD breaks major resistance
The pound soars as BoE Chief Economist hints at more rate hikes. A climb over the double top at 1.2430 from December and January's highs on the daily chart forced sellers to cover, further driving up volatility. This break of a 4-month long consolidation along with a short squeeze of medium-term bears could open the door for a sustained recovery. The pair is heading to its 11-month high at 1.2660 though the RSI's overbought condition may warrant a limited pullback. 1.2400 at the base of the surge is the first support.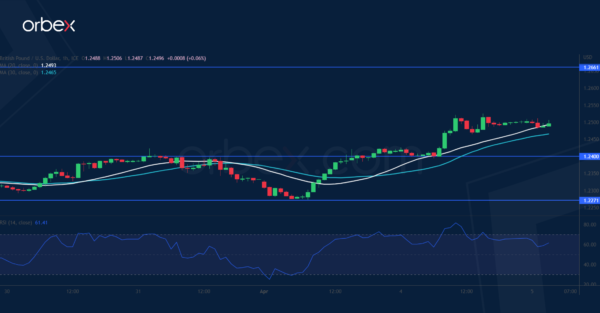 AUD/USD bounces higher
The Australian dollar rallies as the RBA's rate hike pause bolsters confidence of a global pivot soon. A surge above the daily resistance of 0.6770 may have put the aussie back on track against its US counterpart. As the RSI falls into the neutral area, support could be expected in the fresh demand zone 0.6700-0.6720. A rally back above 0.6790 may attract momentum buyers and propel the pair towards 0.6900. On the flip side, a bearish breakout would dent the optimism and lead to a test of the important floor at 0.6650.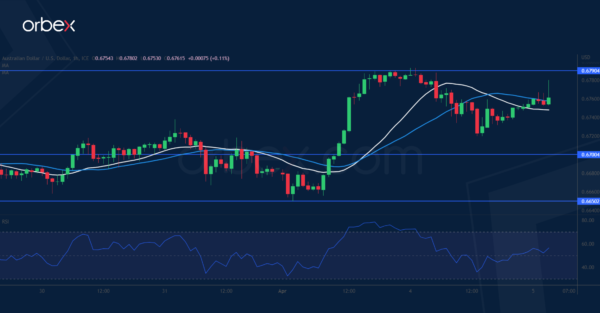 GER 40 consolidates gains
Global equities retrace as the US labour market shows signs of cooling. The Dax 40's break above this year's peak at 15700 suggests that the bulls have regained control of the price action. The psychological tag of 16000 is next and then the all-time high at 16300 would be within reach where a breakout would signal a bullish continuation. In the meantime, the RSI's repeatedly overbought situation may temper the bullish fever, 15550 would be the first level to expect buying interest in case of a retracement.