This week, Saudi energy minister Prince Abdulaziz bin Salman visited Moscow to discuss plans for oil production in the context of the Israeli-Palestinian conflict. The Russian president announced that Saudi Arabia and Russia's production cuts are "likely" to continue.
Meanwhile, Magid Shenouda, deputy chief executive of commodities trading giant Mercuria, told the industry conference in the UAE that oil prices could reach USD 100 a barrel if the situation in the Middle East worsens.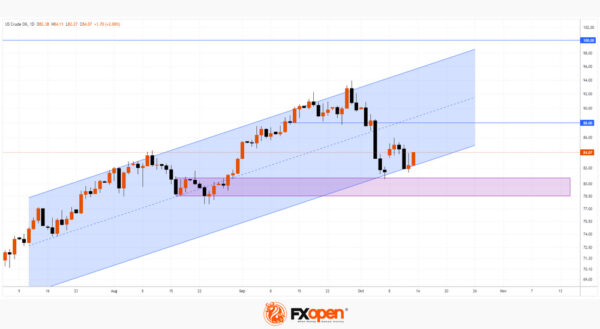 The chart shows that USD 100 a barrel has become more likely due to price action:
→ in August, a range was formed (shown in purple), from which the price moved up, indicating that demand had gained dominance over supply. And it looks like this zone may provide support to the bulls;
→ bulls can also count on support from the lower border of the parallel channel (shown in blue) and events this week show that this line provides significant support;
→ the price closed the bullish gap of Monday – from the point of view of technical analysis, the chances of growth have increased.
The weekend is approaching. If the coming days also bring an escalation in Israel, it is possible that this will give a new impetus to the price towards the psychological mark of USD 100 per barrel.
This article represents the opinion of the Companies operating under the FXOpen brand only. It is not to be construed as an offer, solicitation, or recommendation with respect to products and services provided by the Companies operating under the FXOpen brand, nor is it to be considered financial advice.