Today were going to have a look at the NZDUSD weekly chart. We can see that for close to 2 years price has been ranging in between our areas of support and resistance, or you could say it's a rectangle pattern. However you like to call it, we're seeing a long term consolidation of price between the upper and lower boundaries.
As price is currently at our support zone, one could potentially trade a convincing rejection of support looking to target at least the .72 levels, or alternatively a convincing breakout below or above our S&R zones could provide a long-term trend trade.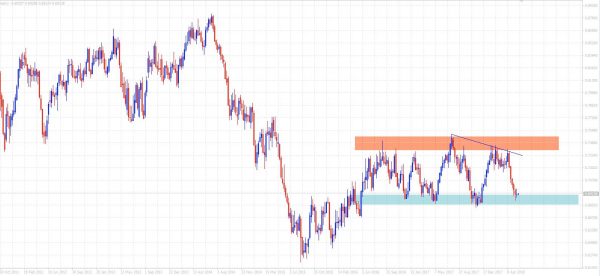 If we jump down to the H4 timeframe, we haven't really got a lot to go off at this point. We can see the makings of a potential ascending triangle forming, however as a personal preference, I prefer to see levels tested 3 or more times. This is certainly a pair to watch for either a range trade or if you're more patient, a breakout trade.