US stocks reversed early gains and closed broadly lower overnight as White House economic advisor Larry Kudlow spoiled the party. NASDAQ led the losses again, dropping -116.55 pts or -1.54 % to close at 7445.08. DOW lost -165.52 pts or -0.69% to 24117.59 while S&P 500 decline -23.43 pts or -0.86% to 2699.63.
The initial rebound was fueled by lessened worries on US-China trade relationship. Trump announced to use a a strengthened national security review panel — the Committee on Foreign Investment in the United States (CFIUS) to guard against threats from Chinese investments in US technology companies. That's a blanket measure that doesn't single out China as the target, as confirmed by Trump's own words, and comments by Treasury Secretary Steven Mnuchin.
The markets generally see that as Trump backing down to a softened approach on China. But such notion was rejected by Kudlow. In an interview, Kudlow said "the idea of softer or harder is really beside the point". And, "That's really not the intent. We're not driving there." Kudlow added that "it's not meant to be harder or softer," and "it's going to be very comprehensive and very effective at protecting our technological family jewels in the United States."
DOW's rejection by 55 H EMA is clearly as sign of near term bearishness. It looked like trades had indeed made use of yesterday's rebound to sell, rather than revering their position. There won't be any bottoming as long as 24569.02 minor resistance holds.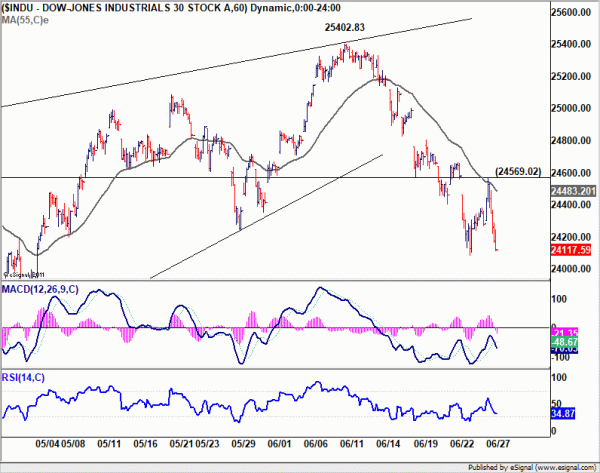 Meanwhile, the close below 24247.84 support affirmed our bearish view on DOW. That is, rise from 23344.52 has completed at 25402.83 already. Deeper fall should be seen back to 23444.52. There is prospect of dropping beyond this support as the decline from 25402.83 could be the third leg of the corrective pattern fro 26616.71 high.