Entering into US session, Euro is trading as the strongest one for today. It's partly lifted as delayed reaction to news that some ECB policy makers are unhappy with market pricing of too slow rate path. Euro could also be following stocks and yields higher on news that Trump is offering a zero auto tariffs solution for trade dispute. At the time of writing, DAX is up 1.5%, CAC is up 1.2%, FTSE is up 0.56%. 10 year German bund yield is up 0.0153 to 0.321.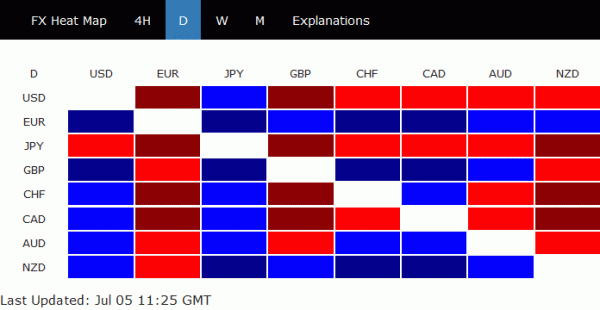 Sterling follows as the second strongest as supported by comments from BoE Governor Mark Carney. He reiterated that recent data pointed to Q1's slowdown as being temporary. And the economic developments are broadly in line with the May projections. That gives a little more support for the chance of an August rate hike. Meanwhile, Yen is trading broadly lower as risk aversion eased, followed by Dollar as the second weakest.
We'd like to point out that from Action Bias tables, there is no overwhelming momentum in the markets yet. Euro could be having a relatively strong near term corrective up move against Dollar and Yen only and it's just neutral against Sterling, Swiss and Australian Dollar. Similar picture is seen in Yen crosses.