US 10 year yield regained 3% handle overnight on supply driven pressure. Trump's Treasury Department announced to raise long term debt issuance to USD 78B this quarter, up USD 5B. More importantly, that's the third consecutive quarterly increase and there is no end in sight. The act is for coping with the procyclical tax cut of the Republicans and Trump's expanded fiscal spending. The Congressional Budget Office estimated that the fiscal deficit will rise to USD 1T by 2020.
10 year yield gained 0.039 overnight to close at 3.003. That came after hitting as high as 3.016 and breached 3.009 resistance. The development affirmed the view that rebound form 2.759 is in progress for retesting 3.115 high. But at this point, we're not seeing enough momentum for a break out yet.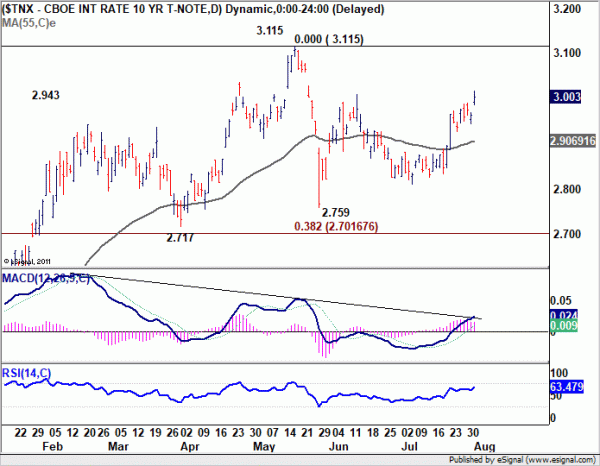 Similarly, 30 year yield hit as high as 3.147 before closing at 3.127, up 0.044. Breach of 3.140 resistance also affirms the bullish view that rise from 2.925 is in progress for 3.247 key resistance.